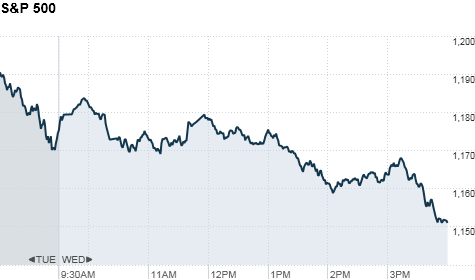 Click chart for more markets data
NEW YORK (CNNMoney) -- Stocks closed down Wednesday, ending a three-day winning streak for all three indexes. A modest early morning rally gave way to worries over stalled global growth prospects and concerns that European leaders may not be moving fast enough to solve the region's debt problems.
While investors remain focused on Europe even after markets there closed, traders said more general fears about a possible global recession and slowing consumer demand have dominated the trading day.
Commodity stocks have been among the biggest drags on equities. Energy and commodity companies pulled down the S&P 500 index Wednesday. Among the biggest drags on the S&P: Dow Chemical (DOW, Fortune 500), Occidental Petroleum (OXY, Fortune 500), oil and gas explorer Schlumberger (SLX) and mining firm Freeport-McMoRan Copper & Gold (FCX, Fortune 500).
"If the argument is one about concerns on global growth, materials and energy are the two sectors that would predictably get hit," said Dan Greenhaus, chief global strategist at BTIG.
Some industry observers also speculated that precious metals and related stocks have taken a hit as investors move money out of the markets and into cash. Gold fell roughly 2.6% to $1,609.20 an ounce, and copper dropped 7.7% Wednesday.
The Russell 2000 Index (RIT) continues to underperform the larger indexes, closing down 4.2%. The steeper drop in the Russell index, which comprises mostly small stocks with largely domestic footprints, indicates that investors may be more worried about a slowdown in the U.S. economy.
"Small-cap stocks are most sensitive to U.S. growth," said Greenhaus. "Investors are concerned about the U.S. economy, but they're also pretty much worried about everything."
The Dow Jones industrial average (INDU) closed down 180 points, or 1.6%, though the index bounced around throughout the day. Alcoa (AA, Fortune 500), DuPont (DD, Fortune 500) and 3M (MMM, Fortune 500) and were among the biggest decliners.
U.S. banks also traded down. Morgan Stanley (MS, Fortune 500), JPMorgan Chase (JPM, Fortune 500), Bank of America (BAC, Fortune 500), Goldman Sachs (GS, Fortune 500), and Citigroup (C, Fortune 500) were all down between 3% and 6% at the closed.
The S&P 500 (SPX) clocked a 24 point drop, or 2.1% decline, while the Nasdaq Composite (COMP) closed down 55 points, or 2.2%. Amazon (AMZN, Fortune 500) was the Nasdaq's biggest winner after the online retailer announced a $199 tablet computer.
Stocks started the day with modest gains, after the Finnish Parliament became the latest member of the eurozone to approve the proposed overhaul of the European Financial Stability Fund.
So far, eight of the 17 eurozone members have ratified the proposal. If passed, the fund could give the European Union an easier way to bail out the debt of troubled member countries.
Nearly any headline out of Europe could quickly change investors' willingness to take risks. The consensus among traders and industry analysts is that the extreme swings in the market are here to stay, as long as the fate of Greece and Europe remains a wild card.
"Volatility is going to stay around, because in the near to medium term on both sides of the Atlantic -- what governs markets is a political question not an economic question," said Scott Clemons, chief investment strategist at Brown Brothers Harriman.
On Tuesday, stocks rallied for most of the day, after Greece passed a controversial property tax measure.
But rumors of a split among European Union officials spurred a sell-off in the final hour of trading, showing yet again that any chatter can radically shift investor appetite for stocks.
"We want to rip this band-aid off already," said Peter Boockvar, equity strategist at Miller Tabak. "The equity markets don't like the dilly-dallying by European officials."
Economy: A government report on durable goods showed orders were down 0.1% in August after rising 4.1% in the prior month. Economists had expected that orders ticked up 0.1% in August.
A weekly report on crude inventories is also on tap for Wednesday.
Companies: Family Dollar (FDO, Fortune 500) beat analysts' expectations, reporting quarterly earnings of 66 cents per share.
Darden Restaurants (DRI, Fortune 500) also released quarterly results in line with analysts' expectations.
World markets: European stocks ended the day in the red. Britain's FTSE 100 (UKX) shed 1.4%, the DAX (DAX) in Germany and France's CAC 40 (CAC40) slipped 0.9%.
Asian markets ended mixed. The Shanghai Composite (SHCOMP) dropped 0.95% and the Hang Seng (HSI) in Hong Kong fell 0.66%, while Japan's Nikkei (N225) rose 0.7%.
Currencies and commodities: The dollar gained strength against the British pound, but lost ground against the euro and Japanese yen.
Oil for November delivery slipped $3.64 to $80.81 a barrel.
Bonds: The price on the benchmark 10-year U.S. Treasury fell, pushing the yield up to 2% from 1.90% late Tuesday.