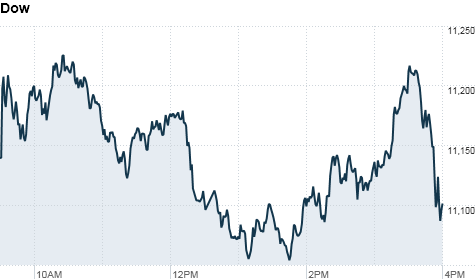 Click the chart for more market data.
NEW YORK (CNNMoney) -- U.S. stocks ended a strong week on a low note Friday as ongoing concerns about the European debt crisis overshadowed a better-than-expected report on the U.S. job market.
The Dow Jones industrial average (INDU) fell 20 points, or 0.2%, to close at 11,103. The S&P 500 (SPX) lost 9 points, or 0.8%, to 1,155. The tech-heavy Nasdaq composite (COMP) dropped 27 points, or 1.1%, 2,479.
Despite the poor performance Friday, all three indexes posted gains for the week. The Dow rose 1.7%, the S&P 500 added 2.1% and the Nasdaq rose 2.6% over the last five days.
The gains were driven largely by speculation that European leaders are warming to the idea of pumping more money into troubled banks. On Thursday, the European Central Bank announced plans to increase the flow of capital to the banking system.
But investors remain skeptical that policy makers will be able to effectively resolve the underlying sovereign debt problems in Greece, Portugal, Ireland, Italy and Spain.
"The market knows that talk is cheap," said Ryan Larson, a senior equity trader at RBC Global Asset Management. "At some point, the talk has to turn into action if this rally is going to be sustained."
On Friday, stocks opened higher after the U.S. government said employers added 103,000 jobs in September, much more than expected.
But concerns about the debt crisis in Europe were thrust back into the spotlight after Fitch cut its credit ratings for Italy and Spain.
Fitch downgraded Italy's long-term default rating one notch to A+, saying the intensifying eurozone debt crisis "constitutes a significant financial and economic shock which has weakened Italy's sovereign risk profile."
The ratings agency also cut is default rating for Spain two notches to AA+. Fitch said the downgrade reflects Spain's fiscal position and dim economic outlook, as well as the broader debt crisis.
The outlook for both nations is negative, said Fitch.
In addition, Moody's downgraded 12 U.K. financial institutions Friday, warning that some smaller banks may be allowed to fail.
"This continues to be a headline-by-headline driven market," said Larson.
The employment report provided "some reason to be cautiously optimistic," he said, adding that "the selling accelerated after the headlines from Fitch."
The ratings action was not a surprise. Italy has already been downgraded recently by Moody's and Standard & Poor's. "Nonetheless, the market is responding," said Larson.
Shares of financial institutions were among the hardest hit. Bank of America (BAC, Fortune 500), JPMorgan (JPM, Fortune 500), Citigroup (C, Fortune 500), Morgan Stanley (MS, Fortune 500), Goldman Sachs (GS, Fortune 500) fell sharply.
Investors gravitated toward defensive stocks in the health care and consumer staples sectors. Pfizer (PFE, Fortune 500), Merck (MRK, Fortune 500), Johnson & Johnson (JNJ, Fortune 500) and Walmart (WMT, Fortune 500) were all higher.
On Thursday, U.S. stocks rallied for a third straight day as investors grew optimistic that European leaders are planning a coordinated plan to recapitalize troubled banks.
Doug Cote, chief market strategist at ING Investment Management, said eliminating the threat of a banking crisis in Europe could set the stage for a sustained rally.
"All the market wants is a fence built around the risk in Europe," he said. "And it looks like that's happening."
Cote said stocks could move sharply higher if policy makers in Europe contain the crisis and investors refocus on the economic and corporate "fundamentals."
"The market has priced in a worse case scenario and once that gets unwound, we may be in for an explosive rally," he said. "We're telling clients: don't capitulate because this could turn around very fast."
Economy: The economy gained 103,000 jobs last month, while the unemployment rate held steady at 9.1%.
A CNNMoney survey of 22 economists had forecast that the U.S. economy added 65,000 jobs in September, with the unemployment rate expected to remain unchanged at 9.1%.
Investors are worried about the economy heading into another recession if the labor situation doesn't start to show marked improvement.
Companies: Shares of biotech firm Illumina (ILMN) plunged 32% after the company sharply cut its revenue outlook Thursday and several analysts cut their ratings on Illumina early Friday.
Other biotechs followed suit, with shares of Life Technologies (LIFE), Qiagen (QGEN), Thermo Fisher Scientific (TMO, Fortune 500) and Affymetrix (AFFX) all down sharply.
Sprint (S, Fortune 500) shares sank 19% as analysts questioned the cost of the company's plan to offer unlimited data plans for Apple's (AAPL, Fortune 500) iPhone.
World markets:European stocks closed higher. Britain's FTSE 100 (UKX) rose 0.2%, the DAX (DAX) in Germany and France's CAC 40 (CAC40) both added 0.5%.
Japan's central bank announced Friday it would keep its already very low interest rates unchanged.
Asian markets ended higher. The Hang Seng (HSI) in Hong Kong advanced 3.1% and Japan's Nikkei (N225) rose 1.0%. Shanghai (SHCOMP) was closed for holiday.
Currencies and commodities: The dollar weakened against the euro and the British pound, but gained versus the Japanese yen.
Oil for November delivery gained 39 cents to $82.98 a barrel.
Gold futures for December delivery fell $17.40 to $1,635.80 an ounce.
Bonds: The price on the benchmark 10-year U.S. Treasury increased to 2.07%, up from 1.99% late Thursday.