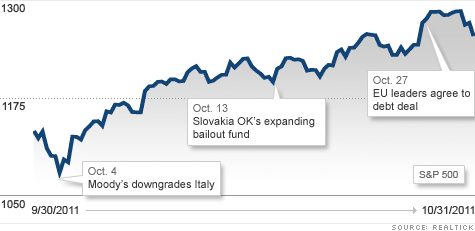 Click the chart for more stock market data.
NEW YORK (CNNMoney) -- U.S. stocks sold off sharply Monday, as investors continued to scrutinize the eurozone debt deal, but it was an impressive month for the market.
The Dow rallied almost 10% in October, and the S&P 500 and Nasdaq surged about 11%. The gains helped the Dow clock its best monthly performance since October 2002, while the S&P 500's climb was its best since December 1991. The Nasdaq's rally in October was its best since September 2010.
Stocks had been rallying on the promise of deal to tackle Europe's debt saga since the start of October. While investors were initially encouraged when that long-awaited promise was delivered last Thursday, they are growing increasingly nervous as questions and doubts about the deal continue to emerge.
Those nerves sparked a steep sell-off on Monday.
The Dow Jones industrial average (INDU) lost 276 points, or 2.3%, the S&P 500 (SPX) fell 32 points, or 2.5%, and the Nasdaq Composite (COMP) dropped 53 points, or 1.9%.
The losses were broad, with all 30 Dow components ending in the red. Financial stocks were among the big decliners, with shares of JPMorgan Chase (JPM, Fortune 500), Goldman Sachs (GS, Fortune 500), Bank of America (BAC, Fortune 500), Morgan Stanley (MS, Fortune 500) and Citigroup (C, Fortune 500) all down between 5% and 9%.
Stocks had been trading lower the entire day, but the selling picked up after Greece's Prime Minister George Papandreou announced in parliament that there will be a referendum to approve the decisions made during last week's European Union summit.
Greek Finance Minister Evangelos Venizelos added that the referendum will ask for a "yes or no vote to the new aid package."
"Last week's news was a step in the right direction," said Michael Sheldon, chief market strategist at RDM Financial Group. "But investors are also aware that many details of the roadmap need to be clarified and worked out."
Those remaining questions will likely trigger increased volatility, said Paul Radeke, wealth advisor at KDV Wealth Management.
Investors were also spooked as MF Global became the first high-profile victim of Europe's crisis. Shares of MF Global (MF) were halted as the firm filed for Chapter 11 bankruptcy protection.
MF Global is just one of several Wall Street companies that could end up in trouble as banks are forced to take significant write-offs on the value of their European bonds.
Earlier Monday, investors moved out of riskier assets, including stocks and commodities, and found refuge in the dollar after the Japanese government stepped in to push down the yen's value in international currency markets.
It marked the third time this year Japan's leaders have curbed the yen's rise. A stronger yen makes it more difficult for exporters to remain competitive.
Companies: Shares of Humana (HUM, Fortune 500) surged after the managed-care firm beat third-quarter earnings expectations and boosted its full-year earnings outlook.
Economy: Manufacturing in the Chicago region expanded in October, but at a slower pace than economists had forecast. The Chicago Purchasing Managers' Index decreased to 58.4 points this month, from a 60.4 reading in September.
Economists were expecting the figure to come in at 58.9. Any reading above 50 indicates that the sector is expanding.
Other regional surveys have recently shown solid improvement in manufacturing activity in October.
The rest of the week promises a busy schedule, including a G20 meeting in France, the latest monetary policy decisions from the Federal Reserve and European Central Bank, and monthly jobs data out of the United States.
World markets: European stocks finished sharply lower. Britain's FTSE 100 (UKX) fell 2.8%, the DAX (DAX) in Germany dropped 3.2% and France's CAC 40 (CAC40) lost 3.2%.
Asian markets ended lower. The Shanghai Composite (SHCOMP) edged lower 0.2%, the Hang Seng (HSI) in Hong Kong shed 0.8% and Japan's Nikkei (N225) slid 0.7%.
Currencies and commodities: The dollar climbed more than 2% against the euro, and surged over 3% against the Japanese yen Monday. The greenback was also slightly higher versus the British pound.
The dollar gained strength against major global currencies, and pressured commodities that are priced in dollars, such as oil and gold, following Japan's move to curb the yen's rise.
"It is no secret that unilateral intervention by a central bank is rarely effective and in the case of the Japanese, two out of the last three rounds of intervention lasted for no longer than 24 hours before the yen began to rise again," said Kathy Lien, director of currency research at Global Forex Trading.
Lien added that there is little reason for other nations to support Japan's move, as central banks around the world are taking steps to ease their own monetary policies and stemming the yen's rise would be "counterproductive."
Oil for December delivery fell 13 cents to settle at $93.19 a barrel.
Gold futures for December delivery tumbled $22 to settle at $1,725.20 an ounce.
Bonds: The price on the benchmark 10-year U.S. Treasury rose, pushing the yield down to 2.18% from 2.31% late Friday.

-- CNN's Elinda Labropoulou in Athens, Greece, contributed to this report.