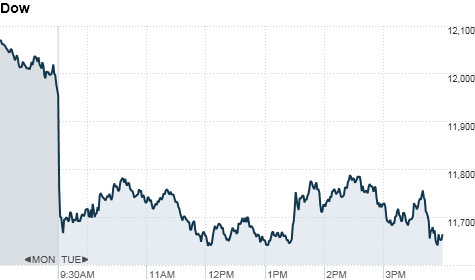 Click the chart for more stock market data.
NEW YORK (CNNMoney) -- New fears about the fate of the European rescue plan reverberated through stock markets in the United States and around the world Tuesday.
Following European markets, U.S. stocks ended sharply lower across the board. Bank stocks were hit especially hard.
The bad news was propelled by Greek Prime Minister George Papandreou's surprise announcement that he would put his country's participation in last week's European debt plan to a voter referendum.
The announcement spooked investors, who feared a public vote would jeopardize the carefully-crafted deal.
Tuesday afternoon, stocks clawed back from the lowest levels of the day following a Dow Jones report that said the referendum is "basically dead." But just minutes before the market close, other news reports said the referendum will go ahead.
In the end, the Dow Jones industrial average (INDU) finished 297 points lower, falling 2.5%, the S&P 500 (SPX) sank 35 points, or 2.8%, and the Nasdaq (COMP) lost 77 points, or 2.9%. Earlier, all three indexes were off around 3%.
"Beggars can't be choosers and the fact that Greece even thinks they have a choice in accepting the EU debt deal is beyond logic," said Kathy Lien, director of currency research at Global Forex Trading, in a note to clients.
Papandreou may be demonstrating "political brinkmanship in order to solidify his position in the view of the public," despite the highly unpopular austerity measures, said Mark Luschini, chief investment strategist at Janney Montgomery Scott.
The referendum could also be Greece's way of warning European officials that they need better terms that the public will support, or else the deal will fall apart, added Luschini. Or it could be a "complete policy blunder."
"Investors don't know what the referendum is going to mean, but they're selling first and will ask questions later," said Luschini. "If Greece ends up demanding different terms to the deal, European officials will be less willing to help. And that could put the prospect of a disorderly Greek default back on the table."
The market's fear gauge, the VIX (VIX), spiked 19% to 35.60. Any reading above 30 signals investor worry. Earlier, the index has surged 25%.
Stocks are coming off sharp losses Monday, as questions and doubts arose regarding the rescue package agreed upon by European leaders last week.
The recent selling puts the S&P 500 and Nasdaq back in negative territory for the year, while the Dow is up just 0.7% in 2011.
Companies: Bank stocks were hit especially hard in Tuesday's sell-off, with shares of Morgan Stanley (MS, Fortune 500) and Citigroup (C, Fortune 500) shares off nearly 8%. Bank of America (BAC, Fortune 500), JP Morgan Chase (JPM, Fortune 500) and Goldman Sachs (GS, Fortune 500) were down more than 5%.
Pfizer (PFE, Fortune 500) shares rose after the company reported quarterly earnings that beat Wall Street's estimates. The drugmaker was the only gainer on the Dow, and among a handful of S&P 500 stocks in positive territory.
Shares of Baker Hughes (BHI, Fortune 500) plunged, making it the big decliner on the S&P 500. The oilfield contractor missed earnings estimates.
MetroPCS (PCS) shares also fell after the wireless service provider reported lackluster earnings results.
Meanwhile, Bank of America said it will drop its planned $5 debit card usage fee after widespread customer complaints.
World markets: World markets tumbled Tuesday, with banks leading the decline globally. Germany's DAX (DAX) lost 5%, Britain's FTSE 100 (UKX) dropped 2.2%, and France's CAC 40 (CAC40) tumbled 5.4%
Societe Generale, BNP Paribas, and Credit Agricole shed between 12% and 17% in Paris. In Germany, shares of Deutsche Bank (DB) dropped 8%.
Asian markets ended mostly in the red, after a report showed China's manufacturing activity slowed in September. The Shanghai Composite (SHCOMP) was flat, while the Hang Seng (HSI) in Hong Kong fell 2.5% and Japan's Nikkei (N225) shed 1.7%.
Economy: The ISM index show manufacturing activity barely expanded in October, coming in at 50.8. Any level above 50 indicates growth in the sector. But the reading fell from September and came in below expectations.
Construction spending edged up 0.2% in September, down from a 1.6% pickup in August. Economists were expecting spending to rise 0.3%.
Auto sales figures will be coming out throughout the day.
Currencies and commodities: The dollar rose against the euro and British pound, and versus the Japanese yen.
Oil for December delivery slipped $1.00, or 1.1%, to settle at $92.19 barrel.
Gold futures for December delivery fell $13.40, or 0.8%, to settle at $1,711.80 an ounce.
Bonds: The price on the benchmark 10-year U.S. Treasury rose, pushing the yield down to 2.00% from 2.18% late Monday.
-- CNN's Elinda Labropoulou in Athens, Greece, contributed to this report.