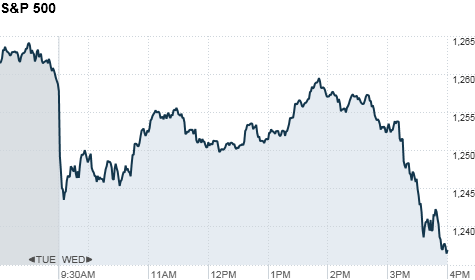 Click chart for more markets data.
NEW YORK (CNNMoney) -- Stocks took a nosedive in the final hour of trading Wednesday, when investors got spooked by a Fitch report that outlined U.S. banks' exposure to contagion from European sovereign debt.
The report set off a dramatic shift in investors' mindset, as stocks had been buffered from larger fears about Europe by positive economic data out of the U.S.
The Dow Jones industrial average (INDU) dropped 191 points, or 1.6%; the S&P 500 (SPX) lost 21 points, or 1.7%; and the Nasdaq composite (COMP) fell 47 points, or 1.7%.
Bank stocks, which had been under pressure throughout the day, sank, following the release of the Fitch report. Shares of Goldman Sachs (GS, Fortune 500), Morgan Stanley (MS, Fortune 500), and Jefferies (JEF), rumored to have most exposure to EU debt, inked the sharpest drops.
Throughout the day, investors sold out of the sovereign bonds of most EU countries with only the German bund seen ASA safe haven. Yields on sovereign debt continue to hit record highs in more countries around the eurozone.
"People are puking European government bonds regardless of what country is listed on the bonds," said Uri Landesman, president of the hedge fund Platinum Partners. "If Europe is going to hell in a handbasket, it doesn't matter what happens in the U.S."
Still, for most of the day, investors held onto hope offered by some auspicious U.S. economic reports released Wednesday. The reports indicated a rise in confidence among homebuilders for the second straight month, and industrial production jumped more than expected.
As the European debt crisis continues to unfold, investors have new leaders to look to for possible solutions.
In Greece, new Prime Minister Lucas Papademos won a vote of confidence for his new government. This action will pave the way for Papademos's government of national unity to take the reins, and seek to restore political and financial stability in Greece
Meanwhile, Italy's new prime minister Mario Monti was sworn in Wednesday in Rome. Monti, who will also take over as temporary finance minister, will present his government's plans to the Italian Senate on Thursday.
"The fact that Mr. Monti has become prime minister gave rise to some amount of jubilation and optimism in the market initially," said Komal S. Sri-Kumar, chief investment strategist at the investment firm TCW. "But you can't deny that debt-to-GDP in Italy is 120%. People will have to tighten their belts phenomenally, and that happens as Italy is going into a recession."
Italy's 10-year bond yield stayed above the 7% Wednesday, following a lackluster reading on third-quarter eurozone economic growth. That level -- which Italian bonds breached for the first time last week -- is a benchmark that makes traders nervous, because Greece, Portugal and Ireland passed it shortly before receiving bailouts.
U.S. stocks closed higher Tuesday, as a batch of better-than-expected U.S. economic data temporarily overshadowed ongoing fears about the eurozone debt crisis.
Economy: Inflation crept lower in October, the government reported Wednesday. Consumer prices rose at a 3.5% annual rate in October, due to declines in energy costs. Analysts expected inflation for the month to stay flat.
Core inflation, excluding volatile food and energy prices, ticked up 0.1% in October, after rising the same amount in September. The increase was in line with expectations.
October industrial production increased by 0.7%, beating expectations.

Companies: Shares of semiconductor company Rambus (RMBS) lost more than half their value, after the company failed to convince a jury Wednesday that its competitor Micron Technology (MU, Fortune 500) committed antitrust violations. Micron's shares jumped on the news.
Target (TGT, Fortune 500) reported quarterly earnings before the opening bell that blew past expectations, with same-store sales rising 4.3%.
Shares of Abercrombie & Fitch (ANF) slid after the apparel retailer posted an increase in quarterly earnings that widely missed expectations. The company said its results were impacted by higher costs and economic uncertainty.
Currencies and commodities: The dollar rose against the euro and British pound, but lost ground versus the Japanese yen.
Oil for December delivery added $3.22 to $102.59 a barrel.
Gold futures for December delivery fell $7.90 to $1,774.30 an ounce.
Bonds: The price on the benchmark 10-year U.S. Treasury rose, pushing the yield down to 2.00% from 2.06% late Tuesday.
World markets: European stocks closed in mixed territory. Britain's FTSE 100 (UKX) slipped 0.2%, the DAX (DAX) in Germany fell 0.3%, while France's CAC 40 (CAC40) edged up 0.5%.
Asian markets ended lower. The Shanghai Composite (SHCOMP) sank 2.5%, the Hang Seng (HSI) in Hong Kong dropped 2% and Japan's Nikkei (N225) lost 0.9%.
CNN's Elinda Labropoulou and Hada Messia contributed to this report