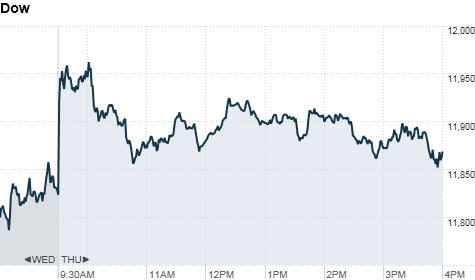 Click the chart for more market data.
NEW YORK (CNNMoney) -- U.S. stocks closed higher Thursday on upbeat jobs and manufacturing reports, but investors said the market remains nervous about the European debt crisis.
The Dow Jones industrial average (INDU) rose 45 points, or 0.4%, to close at 11,869. The S&P 500 (SPX) rose 4 points, or 0.3%. The Nasdaq (COMP) added 2 points, or 0.1%, to 2,541.
The number of people filing for initial unemployment benefits fell to 366,000 in the latest week -- the lowest level since May 2008, and well below analysts' estimates.
Meanwhile, the Federal Reserve Bank of Philadelphia said its index of regional manufacturing activity jumped to 10.3 in December from 3.6 in November.
Thursday's economic data reinforced the notion that the U.S. economy will continue to grow at a modest pace. But investors remain concerned about Europe, where the latest plan to end the debt crisis remains in question.
"The threat of something cataclysmic from Europe is keeping investors cautious," said Mark Luschini, chief investment strategist at Janney Montgomery Scott.
Europe's debt woes have been the main market driver since at least September. Investors are concerned that Europe's sovereign debt problems will lead to a banking crisis that could ripple across the global financial system.
The gains Thursday come after three days of losses on Wall Street. On Wednesday, stocks fell 1% as concerns about the European debt crisis and the euro's slide weighed on the market.
Economy: The Bureau of Labor Statistics' Producer Price Index for the month of November increased by 0.3%, which was higher than expected. The index dropped 0.3% in October.
Industrial production decreased 0.2% in November, after a 0.7% uptick in October, according to the Federal Reserve. Analysts had forecast an increase of 0.2%.
Mortgage rates sank to record lows again this week, according to Freddie Mac's weekly mortgage rate survey.
World markets: European stocks closed higher. Britain's FTSE 100 (UKX) rose 0.6%, the DAX (DAX) in Germany gained 1% and France's CAC 40 (CAC40) added 0.8%.
Asian markets ended sharply lower. The Shanghai Composite (SHCOMP) fell 2.1%, the Hang Seng (HSI) in Hong Kong slumped 1.8% and Japan's Nikkei (N225) dropped 1.7%.
China's manufacturing sector continued to shrink in December, although the pace of contraction was slower than expected.
Companies: After the closing bell, Research in Motion (RIMM) reported third-quarter net income of $667 million, or $1.27 per share. Sales rose 24% to $5.2 billion.
The BlackBerry maker's earnings beat analysts expectations, but the company offered a disappointing outlook for the current quarter and next year. Shares fell 6% in afterhours trading.
Often considered a bellwether of the economy, FedEx (FDX, Fortune 500) reported better-than-expected income in its second fiscal quarter, with an earnings per share of $1.57. Shares rose 8%.
Shares of Novellus Systems (NVLS) climbed 16% after Lam Research Corp (LRCX) announced it will acquire the company in a $3.3 billion transaction. Both companies are large manufacturers of semiconductors, used in chips.
Michael Kors (KORS) stock debuted on the New York Stock Exchange Thursday, after the fashion brand raised $944 million in its initial public offering the previous evening. The IPO was the largest ever for a U.S. fashion company.
Currencies and commodities: The dollar fell against the euro, British pound and the Japanese yen.
Oil for January delivery fell $1.08 to $93.87 a barrel.
Gold futures for February delivery fell $9.70 to $1,577.20 an ounce.
Bonds: The price on the benchmark 10-year U.S. Treasury fell, pushing the yield up to 1.91% from 1.90% late Wednesday.