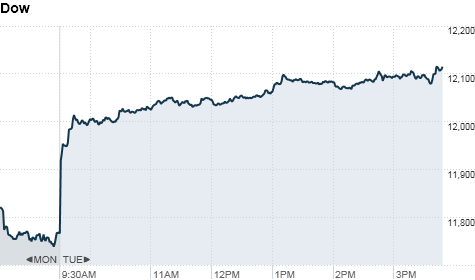 Click for more market data.
NEW YORK (CNNMoney) -- U.S. stocks surged Tuesday as concerns about the European debt crisis eased and investors welcomed signs of strength in the U.S. housing market.
The Dow Jones industrial average (INDU) rose 337 points, or 2.9%, to end at 12,103. The S&P 500 (SPX) jumped 36 points, or 3%, to 1,241. The Nasdaq (COMP) gained 80 points, or 3.2%, to 2,604.
Investors focused on positive headlines out of Europe, including an upbeat reading on German consumer confidence and a surprisingly strong auction of Spanish debt.
Traders were also looking ahead to the results of a key lending program by the European Central Bank on Wednesday. The ECB announced a series of "non-standard" measures earlier this month designed to boost liquidity for European banks struggling to secure funding in the wholesale market.
"The market is coming to the realization that this is an important step to prevent a credit crisis and bring down yields" on government bonds, said Peter Cardillo, chief market economist at Rockwell Global Capital.
Analysts expect banks to borrow up to €300 billion under the first of the ECB's three-year refinancing operations.
On Tuesday, banking stocks were among the best performers, after the sector dragged down the broader market Monday.
Bank of America (BAC, Fortune 500) was up 4% to $5.19 a share, one day after the stock fell below $5 per share. Citigroup (C, Fortune 500), Goldman Sachs (GS, Fortune 500), JPMorgan (JPM, Fortune 500), Morgan Stanley (MS, Fortune 500) and Wells Fargo (WFC, Fortune 500) all moved higher.
The gains came despite the release of a highly anticipated set of proposals from the Federal Reserve to strengthen regulation and oversight of the banking sector.
Meanwhile, stocks were also supported by a better-than-expected report on the U.S. housing market. The number of new homes breaking ground rose to an annual rate of 685,000 in November, with requests for building permits rising 1.8% to 681,000 compared to last year.
Analysts had expected housing starts to hit 627,000, and building permits to come in at 633,000 for November, according to consensus estimates from Briefing.com.
Trading volumes are expected to remain light as many investors have already closed their books for the year. That could make for a choppy week as low trading volumes can exaggerate swings in the market.
"We expect today's lift to be short-lived and for markets to remain relatively quiet into the holidays," said Camilla Sutton, chief currency strategist at Scotia Capital.
Companies: After the closing bell, software giant Oracle (ORCL, Fortune 500) reported earnings and sales that missed analysts' expectations. The stock was down 7% in extended hours.
Shares of Jefferies (JEF) rallied as much as 22% Tuesday after the company released fourth quarter profits that beat analysts' expectations. Revenues were lighter than expected, though.
Apple (AAPL, Fortune 500) rose after the U.S. International Trade commission ruled Monday that the software in some of HTC's Android smartphones violated one provision of an Apple patent, and that those phones would no longer be allowed into the U.S.
Google (GOOG, Fortune 500) shares rose after the company said it would acquire a portfolio of solar photovoltaic facilities with KKR (KKR, Fortune 500). The deal brings Google's total investment in renewable energy projects to more than $915 million.
Food producer General Mills (GIS, Fortune 500) reported quarterly earnings of 76 cents per share, slightly missing estimates. Analysts surveyed by Thomson Reuters expected earnings of 79 cents per share.
Carnival Corporation (CCL) was under pressure after the cruise operator's quarterly results and outlook fell short of expectations.
Late Monday, AT&T (T, Fortune 500) announced it had abandoned its $39 billion bid for T-Mobile, a deal that would have created by far the nation's largest wireless company.

Red Hat (RHT) shares fell 9% after the maker of open source software reported quarterly results late Monday that missed analysts' estimates.

World markets: European stocks closed higher. Britain's FTSE 100 (UKX) rose 1%, while the DAX (DAX) in Germany jumped 3.1% and France's CAC 40 (CAC40) rose 2.7%.
Asian markets ended mixed. The Shanghai Composite (SHCOMP) lost 0.1%, while the Hang Seng (HSI) in Hong Kong ticked up 0.1% and Japan's Nikkei (N225) edged higher 0.5%.
Currencies and commodities: The dollar fell against the euro, the British pound and the Japanese yen.
Oil for January delivery rose $3.29 to end at $97.17 a barrel.
Gold futures for February delivery rose $20.90 to settle at $1,617.60 an ounce.
Bonds: The price on the benchmark 10-year U.S. Treasury fell, with the yield rising to 1.92% from late Monday.