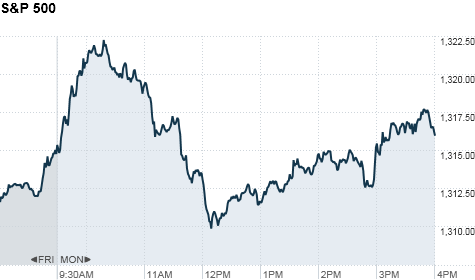 Click chart for more markets data.
NEW YORK (CNNMoney) -- U.S. stocks closed the day flat, after drifting above and below the break even line Monday. Investors grew jittery amid uncertainty surrounding Greek debt talks.
The Dow Jones industrial average (INDU) closed down 12 points, or 0.1%. The S&P 500 (SPX) gained 0.6 points, or 0.05%. The Nasdaq (COMP) moved down 3 points, or 0.1%.
Few major companies were slated to report quarterly results Monday, and with no major economic reports, investors largely stayed on the sidelines.
Oil and gas companies were among the biggest gainers, after Chesapeake Energy (CHK, Fortune 500) announced it would cut natural gas production to drive up prices.
Chesapeake Energy, Cabot Oil and Gas (COG), and Noble Energy (NBL) all gained more than 6%. Southwestern Energy (SWN) added more than 10%.
And investors are still firmly focused on Europe's issues.

Greek debt talks were said to be progressing, but officials have yet to announce a deal to scale back the nation's overwhelming debt load.
The deal is a key condition for Greece to receive additional bailout funds from the European Union and International Monetary Fund. Without this financial support, Greece may not be able to make a €14 billion payment it owes on bonds that comes due March 20.
Eurozone finance ministers were also meeting Monday, with debt issues likely dominating the talks.
Prices on the benchmark 10-year U.S. Treasury also fell, pushing yields as high as 2.08% by mid morning, the highest level since October. By midafternoon, Treasuries retreated to a yield of 2.07%. A fall in bond prices typically indicates that investors are willing to take on more risk, rather than buying up seemingly safe U.S. Treasuries.
"There's a history of over-promising and under-delivering at EU summits, so we're not holding our breath," said Guy LeBas, chief fixed income strategist at Janney Capital Markets. "But yields are signaling that markets are growing more optimistic about the ability of policymakers to manage European challenges."
All three indexes closed out last week more than 2% higher, buoyed by solid corporate earnings from Wall Street banks and some of the nation's largest tech firms.
Economy: While anxieties over Europe remain, this week is also busy with U.S. economic news.
The Federal Reserve starts a two-day meeting on Tuesday, and for the first time ever, the central bank will release forward-looking forecasts for the federal funds rate. The government also releases its first estimate of fourth-quarter economic growth on Friday.
"There are some concerns off and on about Europe, but I think the focus is really going to be on the Fed policy announcement on Wednesday, and GDP numbers later in the week," said Scott Brown, chief economist at Raymond James.
World markets: European stocks closed higher. Britain's FTSE 100 (UKX) closed up 0.9%, the DAX (DAX) in Germany added 0.4% and France's CAC 40 (CAC40) ticked up 0.6%.
Markets in Hong Kong and China were closed Monday for Chinese New Year. Japan's Nikkei (N225) ended flat.
Companies: BlackBerry maker Research in Motion (RIMM) announced co-CEOs Jim Balsillie and Mike Lazaridis will hand over the top job to former chief operating officer Thorsten Heins. After rising more than 3% in premarket trading, the stock closed down 8%, dragging on the tech-heavy Nasdaq.
Shares of Carnival (CCL), which owns the grounded Italian cruise liner Costa Concordia, slumped 0.1%. Carnival's stock has dropped nearly 8% since the Jan. 13 accident.
Oilfield services giant Halliburton (HAL, Fortune 500) released quarterly results that beat Wall Street estimates on both earnings and revenue, but its shares closed 2% lower.
Currencies and commodities: The dollar lost ground against the euro and the Japanese yen, but rose versus the British pound.
Oil for March delivery added $1.25 to $99.58 a barrel.
Gold futures for February delivery rose $14.30 to $1,678.30 an ounce.