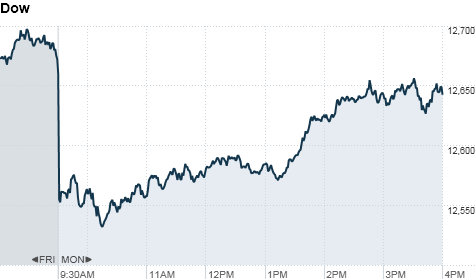 Click the chart for more stock market data.
NEW YORK (CNNMoney) -- U.S. stocks recovered most of their lost ground Monday afternoon but struggled to pull out of the red as concerns over Greece continued to weigh on the market.
Stocks started the day down about 1% after the weekend came and went without Greek leaders reaching an agreement on a debt-relief deal. But as the trading session wore on, the major indexes trimmed most of those losses.
The Dow Jones industrial average (INDU) finished 7 points lower, or 0.1%. Earlier, the blue chip index had declined 131 points. The S&P 500 (SPX) lost 3 points, or 0.3%, and the Nasdaq (COMP) slumped 5 points, or 0.2%.
Financial stocks were among the worst performing stocks Monday, with Bank of America (BAC, Fortune 500) the biggest decliner on the Dow. Citigroup (C, Fortune 500), Wells Fargo (WFC, Fortune 500) and Goldman Sachs (GS, Fortune 500) were all down between 1% and 2%.
Stocks pared their losses as investors hope that European Union leaders, gathered in Brussels for their first summit of the year, will announce good news following their meeting.
Prior to any formal statements, Swedish prime minister Fredrik Reinfeldt told CNN that 25 of 27 European Union members have signed on to a fiscal compact aimed at strengthening budgetary discipline and deepening political ties to avoid a repeat European debt crisis. He noted that the Czech Republic cannot sign on yet (due to political obstacles), and U.K. Prime Minster David Cameron has already refused.
Investors are also looking for leaders to back a treaty to speed up implementation of the European Stability Mechanism, a move designed to strengthen the region's financial firewall.
Despite hopes for progress in Europe, investors remained concerned about the lack of an agreement in Greece. Greek officials finished the weekend without a deal with private-sector creditors. Without such a deal, the country jeopardizes its access to bailout funds and might not be able to make a €14 billion debt payment that's due March 20.
"As long as there is an unresolved issue as its relates to Greece and Europe overall in the background, investors can't move too far forward," said Dave Hinnenkamp, CEO of KDV Wealth Management. "The market has been focusing on the domestic news, but the impact of that is starting to fade and the background is shining through again."
The difficult debt negotiations in Greece have revived concerns about a default, and investors are also growing worried about Portugal, where borrowing costs continue to soar.
U.S. stocks ended mostly lower Friday as jittery investors digested the weaker-than-expected GDP report, and Europe's crisis loomed in the background.
World markets: European stocks closed lower. Britain's FTSE 100 (UKX) fell 1.1%, the DAX (DAX) in Germany dropped 1% and France's CAC 40 (CAC40) lost 1.6%.
Asian markets ended lower. Shanghai re-opened after a weeklong break for Lunar New Year, and the Shanghai Composite (SHCOMP) closed down 1.5%. The Hang Seng (HSI) in Hong Kong fell 1.7%, and Japan's Nikkei (N225) slumped 0.5%.
Economy: Personal income ticked up 0.5% in December, while spending remained flat, the Commerce Department reported Monday.
Meanwhile, the personal consumption expenditures price index -- a measure of inflation preferred by the Federal Reserve -- showed prices, excluding energy and food, rose 0.2% in December, up from a 0.1% gain in November.
Companies: Shares of Pep Boys (PBY) popped more than 23% after the auto parts chain agreed to be taken private for $791 million by investment firm The Gores Group.
Wendy's (WEN) shares fell after the fast-food chain reported earnings per share of one cent, the same as the year-ago quarter.
Buzz continued to swirl over a possible Facebook IPO after the Wall Street Journal reported Friday that the filing could come as early as this Wednesday. The Global X Social Media ETF (SOCL), which includes Groupon (GRPN), LinkedIn (LNKD), Pandora (P), and Zynga (ZNGA), moved higher.
Shares of Carnival Corp. (CCL) -- owner of the ill-fated Costa Concordia -- declined after the cruise-ship operator updated its earnings outlook, saying it expected a decrease of 48 to 51 cents a share for the year.
Currencies and commodities: The dollar rose against the euro and the British pound but fell versus the Japanese yen.
Oil for March delivery slipped 78 cents to settle at $98.78 a barrel.
Gold futures for April delivery fell $1.00 to settle at $1,734.40 an ounce.
Bonds: The price on the benchmark 10-year U.S. Treasury rose, pushing the yield down to 1.84% from 1.90% late Friday.
-- CNN's Jim Boulden contributed to this report.