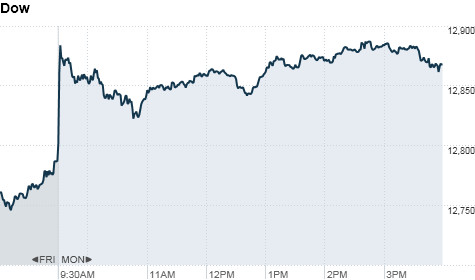 Click for more market data.
NEW YORK (CNNMoney) -- U.S. stocks rose Monday after the Greek government approved a key austerity package, lifting hopes the nation will qualify for more bailout money and avoid a messy default.
The Dow Jones industrial average (INDU) rose 73 points, or 0.6%, to end at 12,874. The S&P 500 (SPX) added 9 points, or 0.7%, 1,352. The Nasdaq (COMP) rose 27 points, or 0.9%, to 2,931.
The Greek Parliament voted early Monday to approve a package of austerity reforms, marking a key step toward securing a second bailout worth €130 billion from the European Union and the International Monetary Fund. Greece needs the money to avoid a potential default on a €14.5 billion bond redemption in March.
But the tone remains cautious as Greece must meet other conditions before euro-area finance ministers meet Wednesday, when they are expected to make a final decision on the bailout.
The vote came amid escalating public protests against the reforms, which include job and salary cuts for government workers, pension reforms and other measures to reduce government spending.
"A favorable Greek vote for austerity measures, even as there are still several hurdles to clear and civil unrest in Athens is ongoing, has spurred risk appetite," said Camilla Sutton, chief currency strategist at Scotia Bank.
U.S. financial stocks posted early gains in the wake of Greece's debt deal. Shares of Bank of America (BAC, Fortune 500) rose 2.2% and JPMorgan (JPM, Fortune 500) gained 1.8%.
Meanwhile, Monday had no reports on the U.S. economy. But the week ahead brings key data on retail sales, new-home construction and inflation.
"While uncertainty regarding the Greek debt crisis will weigh on equity markets, I continue to expect investors will tolerate more risk for greater returns given the slow, but steady progress in U.S. growth," said Sharon Stark, head of fixed-income strategies at Birmingham, Ala.-based Sterne Agee.
Stocks dropped Friday as anxiety mounted over Greece's ongoing debt drama.
Economy: President Obama unveiled a $3.8 trillion budget request Monday that hikes taxes on the rich, spends new money on infrastructure and education, but does little to reform the entitlement programs that pose the biggest long-term threat to the federal budget.
The budget forecasts a deficit for fiscal year 2012 that will top $1.3 trillion, before falling in 2013 to $901 billion, or 5.5% of gross domestic product.
The release comes after heated debate over the past year about how the U.S. should balance aiding the economic recovery with its deficit-reduction needs.
Companies: Shares of Apple (AAPL, Fortune 500) briefly rose to an all-time high above $500 in early trading.
Separately, the computer and cellphone maker sued Motorola Mobility (MMI) to try and prevent Motorola from blocking sales of iPhones in Germany, with Apple arguing that its iPhone 4S is protected by a license agreement with Qualcomm (QCOM, Fortune 500).
Meanwhile, EU regulators approved Google's $12.5 billion acquisition of Motorola.
Chesapeake Energy (CHK, Fortune 500) outlined its 2012 financial plan Monday, saying that it expects to receive $2 billion from two separate transactions in the next 60 days and plans to issue $1 billion in senior notes in a public offering.
Malkin Holdings LLC, which controls the Empire State Building, filed Monday for an initial public offering for a real estate investment trust (REIT) for the building. The filing puts the estimated value of the Empire State Building at $2.5 billion, while the other two properties are worth about $1 billion between them.
Shares of Madison Square Garden (MSG) spiked on hopes the parent company of the New York Knicks will benefit from enthusiasm about the team's new star player, Jeremy Lin.
World markets: European stocks closed higher. Britain's FTSE 100 (UKX) rose 0.8%, the DAX (DAX) in Germany edged up 0.5% and France's CAC 40 (CAC40) rose 0.1%.
Asian markets ended mixed. The Shanghai Composite (SHCOMP) was unchanged, while the Hang Seng (HSI) in Hong Kong added 0.5% and Japan's Nikkei (N225) climbed 0.6%.
Japan's gross domestic product, a measure of economic growth, slipped 2.3% on an annual basis in the fourth quarter of 2011, according to a government report released Monday. For all of 2011, Japan's economy contracted 0.9%, compared to growth of 4.4% in 2010.
Currencies and commodities: The dollar lost ground against the euro and British pound, but gained strength against the Japanese yen.
Oil for March delivery rose $2.24 to settle at $100.91 a barrel.
Crude oil futures were halted due to technical issues and certain trades were canceled Monday on the Chicago Mercantile Exchange.
Gold futures for April delivery slipped 4 cents to end at $1,724.90 an ounce.
Bonds: The price on the benchmark 10-year U.S. Treasury fell, pushing the yield up to 1.99% from 1.97% late Friday.