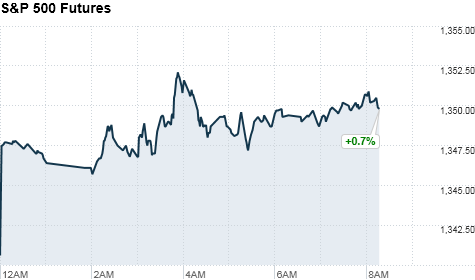 Click chart for more premarket data.
NEW YORK (CNNMoney) -- U.S. stocks were poised for early gains Monday, after the Greek Parliament approved a key austerity package.
The Dow Jones industrial average (INDU), S&P 500 (SPX) and Nasdaq (COMP) futures were higher ahead of the opening bell. Stock futures indicate the possible direction of the markets when they open at 9:30 a.m. ET.
The Greek Parliament voted early Monday to approve a package of austerity reforms, marking a key step toward securing a second bailout worth €130 billion from the European Union, International Monetary Fund and European Central Bank.
Greece needs the money to avoid a potential default on a €14.5 billion bond redemption in March. Sunday's vote clears one of the hurdles the Greek government must overcome to qualify for the bailout.
The vote came amid escalating public protests against the reforms, which include job and salary cuts for government workers, pension reforms and other measures to reduce government spending.
Greece is also working to finalize a deal with its private-sector creditors to write down a portion of its debt.
Stocks dropped Friday as anxiety mounted over Greece's ongoing debt drama.
World markets: European stocks were higher in morning trading. Britain's FTSE 100 (UKX) jumped 0.8%, the DAX (DAX) in Germany edged up 0.3% and France's CAC 40 (CAC40) rose 0.4%.
Asian markets ended mixed. The Shanghai Composite (SHCOMP) was unchanged, while the Hang Seng (HSI) in Hong Kong added 0.5% and Japan's Nikkei (N225) climbed 0.6%.
Japan's gross domestic product, a measure of economic growth, slipped 2.3% on an annualized basis in the fourth quarter of 2011, according to a government report released Monday. For all of 2011, Japan's economy contracted 0.9%, compared to growth of 4.4% in 2010.
Economy: President Obama will release his budget plan Monday at 11 a.m. ET. The document's release comes after heated debate over the past year about how the U.S. should balance aiding the economic recovery with its deficit-reduction needs.
Senior administration officials said Friday that the plan forecasts a $901 billion deficit in 2013, and includes plans to make targeted investments in areas like infrastructure while hiking taxes on the rich.
Companies: Shares of Apple (AAPL, Fortune 500) gained more than 1% in premarket trading Monday, moving within spitting distance of a new all-time high of $500.
The tech giant sued Motorola Mobility (MMI) to try and prevent Motorola from blocking sales of iPhones in Germany, with Apple arguing that its iPhone 4S is protected by a license agreement with Qualcomm (QCOM, Fortune 500).
Meanwhile, regulators are soon expected to clear Google's $12.5 billion acquisition of Motorola.
Chesapeake Energy (CHK, Fortune 500) outlined its 2012 financial plan Monday, saying that it expects to receive $2 billion from two separate transactions in the next 60 days and plans to issue $1 billion in senior notes in a public offering.
U.S. financial stocks posted early gains in the wake of Greece's debt deal. Shares of Citigroup (C, Fortune 500), Bank of America (BAC, Fortune 500) and Morgan Stanley (MS, Fortune 500) all jumped about 2% in premarket trading.
Currencies and commodities: The dollar lost ground against the euro and British pound, but gained strength against the Japanese yen.
Oil for March delivery rose 96 cents to $99.63 a barrel.
Gold futures for April delivery gained $4.90 to $1,730.20 an ounce.
Bonds: The price on the benchmark 10-year U.S. Treasury fell, pushing the yield up to 2.02% from 1.97% late Friday.