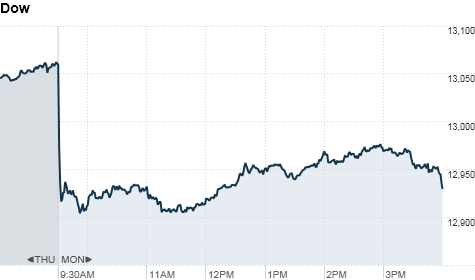 Click for more market data.
NEW YORK (CNNMoney) -- U.S. stocks closed sharply lower Monday, the first trading day following a disappointing jobs report last week.
The Dow Jones industrial average (INDU) fell 130 points, or 1%, to end at 12,929. The S&P 500 (SPX) tumbled 16 points, or 1.1%, to 1,382. The Nasdaq (COMP) slid 33 points, or 1.1%, to 3,047.
On Friday, the Labor Department said the U.S. economy added 120,000 jobs in March, following three straight monthly gains of 200,000 jobs or more, a trend economists expected would continue.
The retreat Monday came despite a pair of billion-dollar deals in the technology sector.
AOL (AOL) shares surged 43% after the company said it agreed to sell more than 800 patents to Microsoft (MSFT, Fortune 500) for about $1 billion in cash.
Separately, Facebook agreed to buy photo network Instagram for $1 billion in cash and stock. Facebook, which is in the process of going public, ended 2011 with a cash stash just shy of $4 billion.
Meanwhile, investors flocked toward the safety of U.S. government debt, pushing the yield on the 10-year Treasury notes to 2.03%, its lowest level in nearly a month.
With no major economic reports on tap Monday, investors are questioning the outlook for growth in light of Friday's jobs report, said David Rolfe, chief investment officer of Wedgewood Partners of St. Louis.
Traders are also bracing for a potentially "choppy earnings season," he added.
The companies in the S&P 500 are expected to report combined earnings growth of less than 1% for the first quarter, according to research from S&P Capital IQ.
U.S. stock markets were closed for Good Friday, and most European markets remained dark Monday. On Thursday, U.S. stocks ended mixed, capping the biggest weekly decline of 2012.
Still, stocks are still up sharply for the year and many analysts say the market was poised for a pullback.
"We have had a terrific rally," said Rolfe. "The market was ripe for a correction on any whiff of negative news."
Economy: In the evening, Federal Reserve Chairman Ben Bernanke will deliver a speech in Stone Mountain, Ga., on "fostering financial stability."
Friday's jobs report revived speculation that the central bank will launch a third round of asset purchases, a policy known as quantitative easing, or QE3.
Companies: Shares of aluminum producer Alcoa (AA, Fortune 500) eased on worries about the materials sector looming ahead of the latest round of corporate results. Analysts are predicting a 14.5% drop in earnings for the sector, according to FactSet.
Alcoa will report after the closing bell on Tuesday, marking the unofficial start of earnings season.
The banking sector was under pressure, with Bank of America (BAC, Fortune 500), JPMorgan (JPM, Fortune 500) and Citibank (C, Fortune 500) down sharply. Investors will get an update on the health of the financial sector later this week when JPMorgan and Wells Fargo (WFC, Fortune 500) report quarterly results Friday.
AT&T (T, Fortune 500) shares eased after the company said Sunday that it had yet to reach a deal with its union on a new contract after the old one expired, but that workers would stay on the job while negotiations continue.
Sherwin-Williams (SHW, Fortune 500) raised its outlook for first-quarter profits, sending the paint company's stock higher.
Analysts at BTIG downgraded shares of Apple (AAPL, Fortune 500) to neutral, despite expectations for another quarter of strong profit growth.
Beauty company Avon Products (AVP, Fortune 500) announced Monday that it had named former Johnson & Johnson (JNJ, Fortune 500) executive Sheri McCoy as its new CEO. The company was in the news last week after it rejected a $10 billion takeover bid from industry rival Coty Inc.
World markets: Markets in Germany, the United Kingdom and France were closed for the Easter holiday.
In Asia, Japan's Nikkei (N225) lost 1.5%, while the Shanghai Composite (SHCOMP) slid 0.9%. Hong Kong was closed.
The Chinese government reported Monday that inflation rose at an annual rate of 3.6% in March, higher than expected.
The report comes amid concerns over whether China will be able to ease back from the breakneck growth of recent years without experiencing a "hard landing."
Currencies and commodities: The dollar gained against the euro and the British pound but fell against the Japanese yen.
Oil for May delivery slipped 85 cents to settle at $102.46 a barrel.
Gold futures for April delivery rose $14 to $1,642.50 an ounce.
Bonds: The price on the benchmark 10-year U.S. Treasury rose, pushing the yield down to 2.03%.