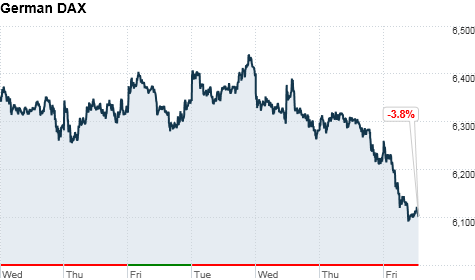 Click chart for more world market data
NEW YORK (CNNMoney) -- Stocks fell around the world Friday, as a bubble of fear encompassed investors.
Record high eurozone unemployment, much weaker-than-expected U.S. job growth, a dour Chinese manufacturing report and an 11-year low for the euro sent stock traders running for the exits.
European markets ended deep in the red Friday. The German DAX (DAX) led the sell-off by tumbling by nearly 3.4%, while England's FTSE 100 (UKX) fell by 1.1% and France's CAC 40 (CAC40) tumbled 2.2%. The broader European Euronext 100 (N100) index sank 2.4%.
Asian markets ended mixed. The Shanghai Composite (SHCOMP) closed just above breakeven, the Hang Seng (HSI) in Hong Kong slipped 0.4% and Japan's Nikkei (N225) slid 1.2%.
Looking for safe havens, German 2-year bonds became so overbought that the yield on the government debt turned negative for the first time in history. Yields, which move in the opposite direction of bond prices, fell below 1.5% on Dutch and British 10-year bonds as well Friday.
Fear set in as the 17-nation eurozone's unemployment rate reached the highest level in the 13-year history of the European currency. The jobless rate climbed to 11% in April as employers slashed 110,000 jobs.
The U.S. Labor Department reported that the economy added just 69,000 jobs Friday, far fewer than the 150,000 jobs economists surveyed by CNNMoney had forecast. The unemployment rate rose to 8.2%. It was expected to have remained unchanged at 8.1%.
Also weighing on stocks was China's production growth, which fell to the lowest rate in five months. Exports to foreign countries, but particularly debt-ridden Europe, continued to slump as the Euro region teeters on the brink of recession.
The euro slipped against a number of foreign countries, falling to ¥96.19 at one point Friday morning -- an 11-year low against the Japanese currency. The euro also fell a quarter percentage point against the dollar, sinking to $1.23.
Investors also continued to watch Spain closely, as the country's possible inability to fund bank bailouts continue to build. The yield on 10-year Spanish debt returned near the 6.6% level it hit on Wednesday, approaching the psychological barrier of 7% that sent other European nations into a debt crisis.
U.S. stocks tumbled as well Friday, with the Dow Jones industrial average (INDU), S&P 500 (SPX) and Nasdaq (COMP) all falling by around 2%.