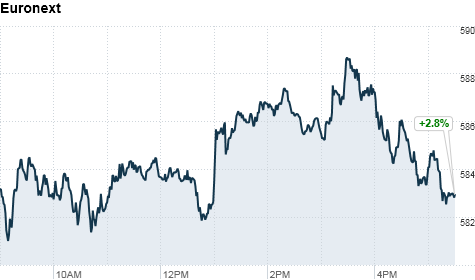 Click on chart to track world markets
NEW YORK (CNNMoney) -- World markets surged on international optimism that governments are leaning toward stimulus to boost the economy.
This sentiment is largely speculative, given the lack of action this week from the European Central Bank.
"Although the ECB somewhat predictably held off further action yesterday, hopes have risen that EU leaders are appreciating the urgency of the situation and that Spain is now accepting the need for outside help," wrote Deutsche Bank analysts Jim Reid and Colin Tan in a market report.
"There is still a long way to go and the market has rallied on hopes rather than any proof of firm action to come, but it does feel that June is going to be a pivotal month in 2012," wrote the Deutsche Bank analysts.
The CAC 40 (CAC40) in Paris and the DAX (DAX) in Frankfurt were both 2.8% at the close and London's FTSE (UKX) closed 1% higher.
Asian markets also rallied, as China cut its key interest rate by a quarter percentage point. Tokyo's Nikkei (N225) was 1.2% at the close of trading. The Hang Seng (HSI) in Hong Kong was 0.7% higher at the close, but China's Shanghai Composite (SHCOMP) slipped 0.7%.
Spain's bond auction was met with strong demand on Thursday, two days after its Treasury minister warned that the credit market was seizing up for Spain.
Demand was triple the €611 million worth of 10-year bonds that Spain put on the market Thursday. The success of the auction helped to drive down the average yield for the Spanish 10-year bond. But the average yield was still trading above 6%, a relatively high benchmark that tends to make investors nervous.
Spain is commanding much attention from European investors, with its high unemployment and crippled banking sector, as well as its need for a fiscal bailout. In May, the Spanish government announced a €19 billion rescue of Bankia, one of Spain's top lenders.
World markets were continuing their rebound from Wednesday, when reports of a stable GDP in the eurozone trumped concerns over the European debt crisis and teetering banks.
Wall Street continued to gain steam on Thursday, after the Dow and S&P posted the biggest rally of 2012 on Wednesday. The Dow Jones (INDU) industrial average, Nasdaq (COMP) and S&P 500 (SPX) were all higher in midday trading Thursday.