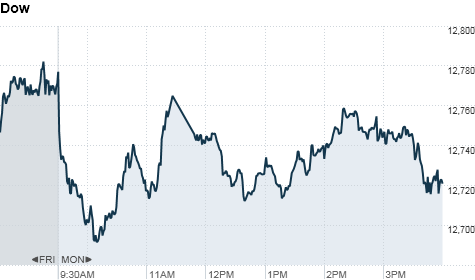 Click the chart for more stock market data.
NEW YORK (CNNMoney) -- U.S. stocks finished lower Monday as investors moved into Treasuries, sending the 10-year yield to a record low, following disappointing June retail sales data.
The Dow Jones industrial average (INDU) slipped 50 points, or 0.4%, the S&P 500 (SPX) fell 3 points, or 0.2%, and the Nasdaq (COMP) lost 12 points, or 0.5%. Earlier, all three indexes were down about 0.7%.
Concerns about the slowing U.S. economy sparked a flight into U.S. government debt, perceived as a safe haven. The yield on the 10-year Treasury fell as low as 1.44% Monday, a new intraday record. It closed at 1.47%, matching the record low closing level hit on June 1.
Fears were triggered by a weaker-than-expected report on retail sales.
Consumers kept a tight grip on their wallets for a third straight month as concerns about slower job creation, stalled global growth and the European debt crisis loomed.
Sales fell 0.5% from the previous month, bucking economists' expectations for a 0.2% increase. Nearly every sector took a hit, from furniture and electronics shops to gas stations and sporting goods stores.
"The retail sales numbers were terrible, especially if you factor in that gas prices were lower than what we had been experiencing," said Kim Forrest, senior equity analyst at Fort Pitt Capital Group. "It's disappointing to see that even though [consumers] weren't spending more on filling up their gas tanks, they weren't turning around and spending that money elsewhere."
That raises worries that consumers will remain cautious in the fast-approaching back-to-school period, a key season for retailers.
The mood on Wall Street was also gloomy as worries about a slowdown in China were heightened over the weekend after Prime Minister Web Jiabao said his country's economic troubles will continue.
Meanwhile, investors also kept a close eye on news from the corporate front, with earnings reports out in full swing this week. Citigroup (C, Fortune 500) kicked off the busy week by topping analysts' forecasts, even as its quarterly revenue declined 10% from a year earlier and fell short of estimates.
Citi's earnings follows results from JPMorgan Chase (JPM, Fortune 500) and Wells Fargo (WFC, Fortune 500), which both reported Friday.
Goldman Sachs (GS, Fortune 500), Bank of America (BAC, Fortune 500), Johnson & Johnson (JNJ, Fortune 500) and a slew of tech firms, including Yahoo (YHOO, Fortune 500), Google (GOOG, Fortune 500), Intel (INTC, Fortune 500) and Microsoft (MSFT, Fortune 500) will all be reporting this week.
And anxiety remains over the European debt crisis. Investors are concerned that political headwinds in Europe will stymie the latest rescue plan for the euro currency union, which eurozone leaders announced at a summit late last month.
U.S. stocks rallied Friday, with the Dow and S&P 500 breaking a six-day losing streak.
World markets: European stocks finished mixed. Britain's FTSE 100 (UKX) slipped 0.1%, while the DAX (DAX) in Germany gained 0.1%. France's CAC 40 (CAC40) ended slightly below the breakeven line.
Asian markets ended mixed. The Shanghai Composite (SHCOMP) fell 1.7%, while the Hang Seng (HSI) in Hong Kong ticked up about 0.2%. Japanese markets were closed for a holiday.
Economy: The Empire Manufacturing survey for New York state rose to 7.4 in July from 2.3 the prior month. Economists were expecting a reading of 3.8.
Business inventories rose 0.3% in May, according to data from the Census Bureau. Economists were expecting inventories to have risen 0.2% from the prior month.
Companies: Shares of biopharmaceutical company Human Genome Sciences (HGSI) rose, as rival GlaxoSmithKlein (GSK) acquired the company for $14.25 a share, or $3.6 billion. In April, GSK had offered to buy the company for $13 a share, or $2.6 billion, but Human Genome rejected that offer.
Nokia (NOK) shares fell after the cell phone company said it would slash the price of its flagship smartphone in the United States. The cost of the Lumia 900 will drop to $49.99, as the company struggles to gain ground against the more popular Apple (AAPL, Fortune 500) and Samsung.
Shares of Visa (V, Fortune 500) and MasterCard (MA, Fortune 500) advanced, following an announcement late Friday that the credit card companies had settled a massive antitrust case with merchants.
Shares of Facebook (FB) declined sharply Monday, though volume was light and there was no apparent catalyst driving the stock lower.
Shares of Yahoo (YHOO, Fortune 500) rose more than 2% in after-hours trading after the company named Google (GOOG, Fortune 500) executive Marissa Mayer as its new CEO.
Currencies and commodities: The dollar fell against the euro, the British pound and the Japanese yen.
Oil for August delivery rose $1.33 cents to settle at $88.43 a barrel.
Gold futures for August delivery fell 40 cents to settle at $1,591.60 an ounce.