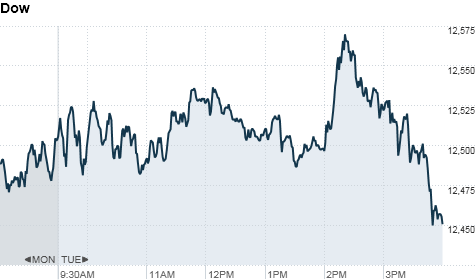 Click the chart for more stock market data.
NEW YORK (CNNMoney) -- U.S. stocks ended near session lows Tuesday after Ireland's credit rating was cut to junk by Moody's Investors Services, serving as yet another reminder of Europe's ongoing debt troubles.
The Dow Jones industrial average (INDU) dropped 59 points, or 0.5%, with Boeing (BE) and Intel (INTC, Fortune 500) weighing on the blue chip index.
The S&P 500 (SPX) fell 6 points, or 0.4% and the Nasdaq composite (COMP) tumbled 21 points, or 0.7%.
"The market is rightfully concerned and is trying to understand how this debt problem will be managed," said Rob Lutts, chief investment officer at Cabot Money Management.
Worries about how far and deep Europe's debt crisis might spread had also pressured U.S. stocks on Monday.
Earlier Tuesday, stocks got a lift after minutes from the Federal Reserve's June meeting hinted that the central bank could be open to more stimulus.
Some committee members argued that the Fed may have to consider additional stimulus measures, "especially if economic growth remained too slow to meaningfully reduce the unemployment rate in the medium term."
Additional stimulus from the Fed would be the third round of quantitative easing, or QE3, since it started buying securities in an effort to stimulate the economy.
"The Fed is telegraphing that there may be a QE3," said Tom Schrader, managing director at Stifel Nicolaus. "The stock market runs on liquidity, so any more of it would benefit financial assets."
But the fact that the Fed is divided on the issue adds uncertainty to the market, so trading will likely remain choppy until investors get more clarity from the Fed, Schrader added.
Investors are also waiting for more second-quarter corporate results.
"The key will be the level of confidence in Corporate America," he said. "If management seems more positive, that's an encouraging sign for capital spending and consumer spending."
So far, that's not happening.
Companies: Microchip (MCHP)'s stock dragged on both the S&P 500 and the Nasdaq, as the tech firm's shares slumped 12%. The company lowered its earnings guidance, saying supply disruptions resulting from the Japanese earthquake were impacting its automotive business.
Shares of Novellus Systems (NVLS) fell 11% after the maker of chipmaking technology delivered disappointing quarterly results and guidance.
After the closing bell Monday, aluminum maker Alcoa (AA, Fortune 500) reported a larger than expected gain in second-quarter sales but investors weren't impressed.
While Alcoa beat on sales, earnings were only in line with recently lowered analyst estimates. Shares fell 1.3% Tuesday.
Meanwhile, shares of Cisco (CSCO, Fortune 500) spiked 1%, amid reports that the company may cut as many as 10,000 jobs -- or 14% of its workforce -- allowing the company to collect $1 billion in savings in fiscal 2012.
News Corp.'s (NWSA, Fortune 500) stock fell 0.8% after the media company, plagued by a phone hacking scandal in the United Kingdom, announced a $5 billion stock buyback program.
Bonds: Investors have been pouring into U.S. Treasuries as uncertainty surrounding Europe's debt problems grows. Treasuries are considered "safer" havens in times of uncertainty, since it's backed by the U.S. government.
The price on the benchmark 10-year note rose, pushing the yield as low to 2.89% from 2.92% late Monday.
Currencies and commodities: The dollar hit a nearly four-month high against the euro at $1.39 . The greenback fell against the British pound and the Japanese yen.
Oil for August delivery added $2.28 to settle at $97.43 a barrel.
Gold futures for August delivery rose $13.10 to settle at a record high of $1,562.30 an ounce.
Economy: The U.S. trade balance figures for May came in at $50.2 billion -- far larger than a revised $43.6 billion in April. The trade deficit was also wider than the $44 billion expected by economists surveyed by Briefing.com.
World markets: European stocks fell Tuesday. Britain's FTSE 100 shed 1%, the DAX in Germany retreated 0.8%, and France's CAC 40 stumbled 8%.
Asian markets ended sharply lower. The Shanghai Composite dropped 1.7%, the Hang Seng in Hong Kong tumbled 3.1% and Japan's Nikkei lost 1.4%.