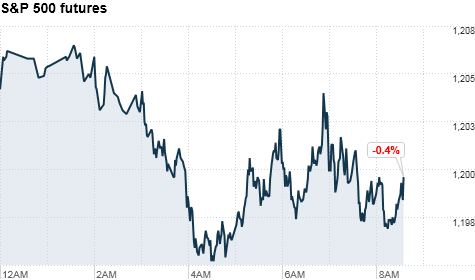 Click chart to track premarket data.
NEW YORK (CNNMoney) -- U.S. stocks were poised to open slightly lower Friday, as investors take a breather after four consecutive winning days.
Dow Jones industrial average (INDU), S&P 500 (SPX) and Nasdaq (COMP) futures were all lower ahead of the opening bell. Stock futures indicate the possible direction of the markets when they open at 9:30 a.m. ET.
"Going into the weekend, anyone who has made money over the last couple days is probably happy to take some of that risk off the table," said Manoj Ladwa, a senior trader at ETX Capital.
U.S. stocks closed higher Thursday as banks led the market higher, following a coordinated effort by five central banks to help ward off a credit crisis in Europe.
The European Central Bank, the U.S. Federal Reserve and three other major central banks agreed to step in to boost dollar liquidity for banks in Europe.
The move comes amid signs of a pullback in bank-to-bank lending, as European Union officials struggle to resolve long-standing sovereign debt issues.
Finance ministers began meetings Friday in Poland, as they sought to shore up the region's most vulnerable economies -- a development that sparked optimism across the continent.
European stocks were broadly higher in morning trading. Britain's FTSE 100 (UKX) ticked up 1%, the DAX (DAX) in Germany rose 2.1% and France's CAC 40 (CAC40) increased 0.7%.
But of course, Europe's underlying debt issues remain, and a lasting solution will be difficult to hammer out.
"Any optimism could be fairly short lived," Ladwa said. "I don't think anyone is expecting the finance ministers to come up with a real concrete solution."
Economy: Shortly after the opening bell, the University of Michigan will put out its initial reading on consumer sentiment in September. Economists expect the figure to move slightly higher to 56.3 up from 55.7.

Companies: Research in Motion (RIMM) shares were down sharply in premarket trading, as the company announced grim second-quarter results that fell far short of Wall Street's sales and earnings forecasts.
RIM earned $329 million in the quarter, less than half of its profit a year earlier. RIM booked a one-time charge of $118 million for costs associated with a reorganization announced in July. RIM shares fell 19% in after-hours trading.
One day after the Swiss bank disclosed a $2 billion loss due to a rogue trader, UBS (UBS AG) shares rose slightly in premarket trading, as reports indicate the bank might be forced to consider layoffs.
And in a sign the loss could have long-term implications, Moody's placed the bank's credit rating on review for a possible downgrade.
World markets: Asian markets ended higher. The Shanghai Composite (SHCOMP) added 0.1%, the Hang Seng (HSI) in Hong Kong gained 1.4% and Japan's Nikkei (N225) jumped 2.3%.
Currencies and commodities: The dollar strengthened against the euro, the Japanese yen and the British pound.
Oil for October delivery slipped 10 cents to $89.30 a barrel.
Gold futures for December delivery jumped $7.70 to $1,789 an ounce.
Bonds: The price on the benchmark 10-year U.S. Treasury was unchanged, with the yield holding steady at 2.08%.