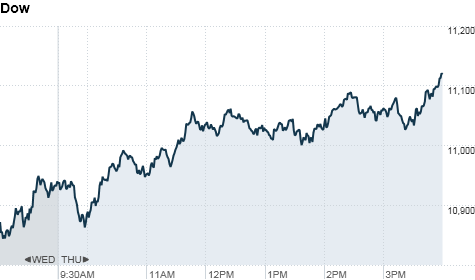 Click the chart for more stock market data.
NEW YORK (CNNMoney) -- U.S. stocks rallied for a third straight day Thursday, as investors turned optimistic, following the European Central Bank's latest policy measures aimed at boosting liquidity in the European banking system.
The Dow Jones industrial average (INDU) jumped 183 points, or 1.7%, the S&P 500 (SPX) added 21 points, or 1.8%, and the tech-heavy Nasdaq composite (COMP) rose 46 points, or 1.9%.
Financial stocks led the gains, with Bank of America (BAC, Fortune 500) and JPMorgan Chase (JPM, Fortune 500) among the Dow's strongest performers. Shares of Morgan Stanley (MS, Fortune 500) and Citigroup (C, Fortune 500) also popped.
U.S. banks have been hammered recently, amid worries about what exposure they may have to sovereign debt of Greece and other so-called peripheral nations in Europe.
But Treasury Secretary Tim Geithner reassured investors that U.S. banks are "strong" and can withstand Europe's crisis.
"The direct exposure of the US financial system to the countries under the most pressure in Europe is very modest," he said, during a Congressional hearing. "Europe as whole though, is a big deal."
Early Thursday, the ECB announced a series of "non-standard" policy measures aimed at raising liquidity in European banks, easing concerns that an escalating debt crisis could trigger the collapse of European banks.
"We're seeing some optimism because it looks like officials are starting to work more rapidly to provide stability to the financial markets," said Michael Sheldon, chief market strategist at RDM Financial Group.
Meanwhile, talk about the recapitalization of European banks also grew louder, with German Chancellor Angela Merkel reiterating her support for the effort.
Merkel, head of Europe's largest economy, said banks should to try to boost their capital on their own, but if necessary, policymakers "should not hesitate" to step in, noting that the damages could be greater without recapitalization.
Merkel was meeting in Berlin with World Bank president Robert Zoellick, IMF head Christine Lagarde, Trichet and others ahead of the upcoming G20 meeting.
Europe's debt crisis: Despite the moves to aid European banks, the ongoing nervousness about scant progress over Europe's debt crisis remain.
"I don't think Europe's problems are about liquidity," said Kim Caughey Forrest, senior equity analyst at Fort Pitt Capital Group. "The steps may help prevent a run on the banks, which is good, but they don't help fix the sovereign debt issue."
As long as a real solution to Europe's debt crisis remains in the distant future, trading will remain choppy.
"The biggest overhang on the market is Europe's debt issue, and nervousness in the market will loom until we have some answers," said Timothy Ghriskey, chief investment officer at Solar Asset Management. "For now, there seems to be a lot of indecision and lack of visibility."
Investors were also disappointed by the European Central Bank's decision to hold interest rates steady. Expectations were for the ECB to reduce rates amid increasing signs that the European economy is slowing and may lapse into a recession, said Ghriskey.
The mood was further dampened by ECB President Jean-Claude Trichet's gloomy economic outlook.
In his last press conference as ECB president, Trichet said the region's "economic outlook remains subject to particularly high uncertainty and intensified downside risks."
U.S. stocks rallied on Wednesday as investors focused on positive news out of the eurozone.
World markets: European stocks closed higher. Britain's FTSE 100 (UKX) rose 3%, the DAX (DAX) in Germany increased 2.7% and France's CAC 40 (CAC40) added 2.3%.
Asian markets also ended higher. The Hang Seng (HSI) in Hong Kong rose 5.7% and Japan's Nikkei (N225) ticked up 1.7%. Shanghai is closed all week for holiday.
Economy: The Labor Department's closely watched initial jobless claims data released Thursday morning showed that 401,000 Americans filed for unemployment claims last week. The figure came in just below economists' expectations of 402,000 but above the previous week's revised figure of 395,000 claims.
The most important reading on the job market of Friday morning, with the release of the U.S. jobs report for September.
A CNNMoney survey of 22 economists forecasts that the U.S. economy added 65,000 jobs overall, with the unemployment rate expected to remain unchanged at 9.1%.
Companies: Investors will keep a close watch on Apple (AAPL, Fortune 500) shares after the death of tech luminary Steve Jobs, as they consider what his loss will mean for the tech giant's stock and the company's long-term success.
Yahoo's (YHOO, Fortune 500) stock was the worst performer on the S&P 500 and Nasdaq. The slump came a day after Yahoo rallied 10% on chatter that Microsoft (MSFT, Fortune 500) may make a bid for the struggling tech firm.
Shares of JC Penney (JCP, Fortune 500) were even after the department store reported a decline in same-store sales for September, surprising analysts who were forecasting an increase. The retailer also trimmed its profit guidance for the third quarter.
Target (TGT, Fortune 500) shares increased after the discount retailer's same-store sales topped analyst estimates.
Kohl's (KSS, Fortune 500) stock also gained after the department store chain's sales last month rose more than expected. Kohl's also lowered its earning forecast for the third quarter and the full year due to accounting changes.
Corning (GLW, Fortune 500) shares rose after the liquid crystal display manufacturer increased its quarterly dividend.
Bank of America (BAC, Fortune 500) said its week-long website troubles are due to technical difficulties and heavier than normal traffic to the bank's website.
Currencies and commodities: The dollar fell against the euro and the Japanese yen, but gained slightly versus the British pound.
Oil for November delivery rose $2.91 to settle at $82.59 a barrel.
Gold futures for December delivery rose $11.60 to settle at $1,653.20 an ounce.
Bonds: The price on the benchmark 10-year U.S. Treasury dropped, pushing the yield up to 1.99% from 1.89% late Wednesday.
U.S. stocks rallied for a third straight day Thursday, as investors turned optimistic, following the European Central Bank's latest policy measures aimed at boosting liquidity in the European banking system.