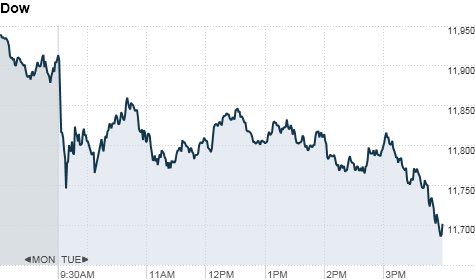 Click the chart for more stock market data.
NEW YORK (CNNMoney) -- U.S. stocks ended at the lowest levels of the day Tuesday, with a sell-off picking up steam in the final minutes of trading, as investors geared up for a key summit on Europe's debt crisis.
A handful of disappointing earnings reports also added to the gloomy mood on Wall Street.
The Dow Jones industrial average (INDU) finished 207 points lower, or 1.7%. The S&P 500 (SPX) slid 25 points, or 2%, and the Nasdaq composite (COMP) lost 61 points, or 2.3%. The day's decline snapped a 3-day winning streak for the Dow and S&P 500.
Netflix (NFLX) was a big loser Tuesday, a day after the company announced it lost 800,000 U.S. subscribers in the quarter. Shares sank nearly 35%, dragging on both the S&P 500 and Nasdaq indexes.
Meanwhile, 3M (MMM, Fortune 500) -- which missed analysts' earnings estimates -- weighed on the Dow with shares falling more than 6%.
Financial stocks were also sharply lower, with Citigroup (C, Fortune 500), JPMorgan Chase (JPM, Fortune 500), Bank of America (BAC, Fortune 500), Wells Fargo (WFC, Fortune 500), Goldman Sachs (GS, Fortune 500) all down between 2% and 4%.
Investors are awaiting a European summit Wednesday, when government heads -- including German Chancellor Angela Merkel and French President Nicolas Sarkozy -- have pledged to unveil a comprehensive plan to tackle the region's debt crisis.
Markets have been rallying on that promise since the start of October, and many traders say financial markets have already priced in high expectations. But with only a day remaining, uncertainty has weakened that resolve.
Investors were briefly spooked early Tuesday by news that a meeting of EU finance ministers had been cancelled. The meeting had not actually been confirmed, but the market reaction highlighted just how jittery investors are.
"The political obstacles that are in the way of getting a big agreement tomorrow are huge, and anyone who expects a big outcome is living somewhere on Saturn," said Michael Hewson, market analyst at CMC Markets in London.
In addition to dealing with Greece's financial troubles, European politicians also have to tackle a plan that will support Italy and other struggling European nations, Hewson said. Given the increasing number of moving parts, Hewson thinks European leaders will continue to kick the can down the road for several months longer, as they struggle to agree on the terms of a solution.
"We're on a slow-moving train, and the destination is still unknown," he said. "I'm really surprised in the naivety of markets in thinking that there would be a clearly defined outcome soon."
U.S. stocks ended sharply higher Monday, as investors welcomed two merger announcements and strong earnings from Caterpillar (CAT, Fortune 500).
Companies: BP (BP) shares rose, after the oil company announced its profit rose to $4.9 billion in the third quarter -- up from $1.8 billion in the year-prior quarter.
Swiss pharmaceutical company Novartis AG (NVS) announced Tuesday that it will cut 2,000 jobs over the next three to five years. Shares fell as the announcement was coupled with a weaker-than-expected earnings report.
Online retailer Amazon.com's (AMZN, Fortune 500) third-quarter earnings sharply missed Wall Street estimates, sending shares 17% lower in after-hours trading Tuesday. Amazon earned 14 cents a share during the quarter, down 73% from a year ago and far below forecasts of 24 cents a share.
Shares of First Solar (FSLR) dropped more than 25% after the company announced that CEO Rob Gillette is leaving after less than three years on the job. Chairman and founder Mike Ahearn will serve as interim CEO as the company searches for a replacement.
Economy: Consumer confidence fell sharply to 39.8 in October -- its lowest reading since March 2009. Economists were expecting the figure to hold steady at 46.
Home prices rose for a fifth straight month in August, according to the S&P/Case-Shiller index -- a gauge of home prices across 20 major cities. Prices edged up 0.2% during the month, but remain down 3.8% on a yearly basis.
Currencies and commodities: The dollar rose against the euro, but slipped versus the British pound and Japanese yen.
Oil for December delivery gained $1.90 to settle at $92.17 a barrel.
Gold futures for December delivery added $48.10 to settle at $1,700.40 an ounce.
Bonds: The price on the benchmark 10-year U.S. Treasury rose, pushing the yield down to 2.12% from 2.23% late Monday.
World markets: European stocks ended in the red. Britain's FTSE 100 (UKX) edged down by 0.4%, the DAX (DAX) in Germany fell 0.1%, while France's CAC 40 (CAC40) slid 1.6%.
Asian markets ended mixed. The Shanghai Composite (SHCOMP) rose 1.7% and the Hang Seng (HSI) in Hong Kong added 1.1%, while Japan's Nikkei (N225) shed 1%.