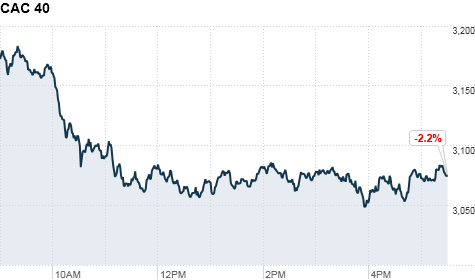 Click on chart to track markets
NEW YORK (CNNMoney) -- European markets sold off Wednesday as Italian bond yields hit record highs, raising worries of just how deep the crisis would spread.
A day earlier, Italian Prime Minister Silvio Berlusconi said he'd resign after Parliament agreed to a budget. But that may not come until December, and his resignation is not going to solve Europe's crisis.
"The stock market's down because the bond market's in meltdown," said Gary Jenkins, strategist at Evolution Securities in London. "The idea of [Italian Prime Minister Silvio] Berlusconi going and making everything right was never going to happen."
London's FTSE (UKX) was down 2% at the close of trading, while the DAX (DAX) in Frankfurt and the CAC40 (CAC40) in Paris dropped 2.2% at the close.
Wednesday's market fracas was fueled by the fact that the Italian 10-year bond yield exceeded 7%, which is widely regarded as a bailout benchmark. Portugal and Ireland, for example, sought bailouts after their yields stayed above the 7% mark for an extended period.
Asian markets faired better. The Nikkei (N225) in Tokyo closed higher by 1.2% and the Hang Seng (HSI) in Hong Kong closed higher by 1.7%.
Market sentiment in Asia was driven by Chinese economic reports that showed declines in food prices, noted Brown Brothers Harriman analyst Marc Chandler.
"No big surprises from China's economic data overnight but the figures are nevertheless market friendly developments," said Chandler, in a client note.
But Wall Street was firmly focused on Europe, or more specifically, on Italy. The Dow Jones industrial average (INDU), S&P 500 (SPX) and Nasdaq (COMP) each fell at least 2%.
Major bank stocks were under pressure. Shares of Citigroup (C, Fortune 500) and Goldman Sachs (GS, Fortune 500) plunged more than 5% while Bank of America (BAC, Fortune 500) and JPMorgan Chase (JPM, Fortune 500) fell more than 3%.
Jenkins said European traders are focusing on Italy's high GDP to debt ratio of 120%, the nation's vast amount of debt of €1.9 trillion and its weak economic outlook, in addition to the ongoing problems of other troubled sovereigns like Portugal, Ireland, Greece and Spain.
Berlusconi is actually the second European prime minister to quit since the weekend. Greek Prime Minister George Papandreou announced Sunday that he would resign as soon as a coalition government was in place. He's expected to make it official following a televised address to the nation.