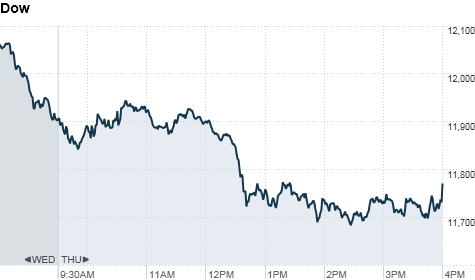 Click the chart for more market data.
NEW YORK (CNNMoney) -- U.S. stocks fell sharply Thursday as jumpy investors dumped risky assets on fears of more debt trouble in the eurozone.
The Dow Jones industrial average (INDU) was down 135 points, or 1.3%, to end at 11,770; the S&P 500 (SPX) fell 21 points, or 1.7%, to 1,216; the Nasdaq composite (COMP) sank 51 points, or 1.9%, to 2,588.
The selling gained momentum after the S&P 500 fell below 1,225, a key technical level that had been the recent moving average.
Traders said the the market remains on edge as the eurozone debt crisis appears to be spreading to larger economies in Europe.
Yields on Italian, Spanish and French government bonds have been rising this week amid doubts that European policy makers will be able to resolve the eurozone debt crisis.
"Everyone is looking overseas and trying to figure out what's what," said Frank Davis, director of sales and trading at LEK Securities.
Some traders said a possible breakdown of debt reduction talks in Washington was adding to the bearish tone.
In addition, analyst said light trading volumes and options expirations on Friday may have amplified the move lower.
"These things can happen when volume is light," said Ryan Larson, a senior equity trader at RBC Global Asset Management. "Things come out, and people react first and ask questions later."
The retreat came despite a series of better-than-expected economic reports this week, including strong data on retail sales, industrial production and manufacturing activity.
On Thursday, the government released data on unemployment and construction that topped forecasts.
"Investors have been ignoring good economic and earnings news in U.S. as they have been distracted by worries about Europe," said Kate Warne, chief investment strategist with Edward Jones.
Stocks took a nosedive in the final hour of trading Wednesday, after investors got spooked by a Fitch report that outlined U.S. banks' exposure to contagion from European sovereign debt.
Meanwhile, hundreds of protesters affiliated with the Occupy Wall Street movement clashed with police outside the New York Stock Exchange Thursday as part of a "mass day of action."
Economy: Initial jobless claims came in lower than expected at 388,000 for the week ending Nov. 12. The latest week's numbers eased from 390,000 from the week prior and were the lowest since April.

The number of housing building permits jumped to a seasonally adjusted annual rate of 653,000 in October, up 10.9% from the revised rate of 589,000 in September, the Commerce Department said Thursday. That was much higher than expected, with economists surveyed by Briefing.com looking for a 603,000 annual rate.
Construction of new homes ticked slightly lower during the month. Housing starts edged down 0.3% to an annual rate of 628,000 units in October, the Commerce Department said. That's down from a revised 630,000 in September.
The Philadelphia Fed's Business Outlook Index still showed growth in the region, but barely, slipping to 3.6 in November from 8.7 the previous month.

Companies: Shares of Sears (SHLD, Fortune 500) fell 4% after the company posted a $421 million quarterly loss before the opening bell Thursday. The retailer reported same-store sales fell 0.7%, missing expectations.
J.M. Smucker (SJM, Fortune 500) posted a much bigger loss than expected Thursday, due to higher costs.
Angie's List, (ANGI) an online provider of consumer reviews, sold 8.8 million shares for $13 apiece in an initial public offering. Shares surged 27%.
Auto parts supply Delphi Automotive (DLPH) returned to the public market, selling 24 million shares at $22 apiece. The stock edged lower.
Data storage company NetApp (NTAP) reported late Wednesday that quarterly sales numbers missed analysts' expectations. Shares plunged 12%.
Bank stocks, which sank Wednesday following the release of the Fitch report, continued their declines Thursday. Shares of Citi (C, Fortune 500) and Morgan Stanley (MS, Fortune 500) both fell about 3%.
World markets: European stocks closed lower. Britain's FTSE 100 (UKX) tumbled 1.6%, the DAX (DAX) in Germany fell 0.9% and France's CAC 40 (CAC40) slid 1.4%.
Asian markets ended mixed. The Shanghai Composite (SHCOMP) edged lower 0.2% and the Hang Seng (HSI) in Hong Kong lost 0.7%, while Japan's Nikkei (N225) added 0.2%.
Currencies and commodities: The dollar lost ground against the euro, the British pound and the Japanese yen.
Oil for December delivery slipped $3.77 to close at $98.82 a barrel.
Gold futures for December delivery fell $45.10 to $1,720.20 an ounce.
Bonds: The price on the benchmark 10-year U.S. Treasury rose, pushing the yield down to 1.96% from 2.02% late Wednesday.