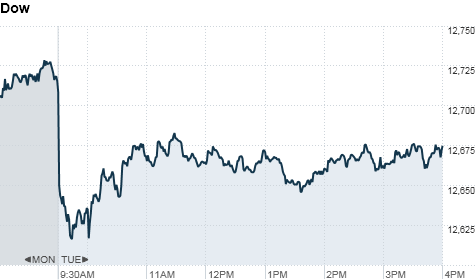 Click the chart for more stock market data.
NEW YORK (CNNMoney) -- U.S. stocks ended mostly in the red Tuesday as investors awaited progress on Greek debt talks and waded through another batch of corporate results.
The Dow Jones industrial average (INDU) lost 33 points, or 0.3%, and the S&P 500 (SPX) shed 1 points, or 0.1%. The tech-heavy Nasdaq (COMP) managed to gain 2 points, or 0.1%.
Anxiety remains about the European debt crisis and, in particular, Greece's ongoing negotiations with representatives of private-sector creditors to reduce its debt burden.
A deal is a key condition for Greece to receive additional bailout funds from the European Union and International Monetary Fund. Without this financial support, Greece may not be able to make a €14 billion debt payment that's due March 20.
"Europe continues to be a problem without a good solution," said Timothy Ghriskey, chief investment officer at Solaris Asset Management. "The uncertainty continues to be a big overhang on the market."
Speaking at the Bloomberg Link Sovereign Debt conference in New York, S&P Chairman of Sovereign Rating Committee John Chambers said that even with the writedowns being discussed, any deal between Greece and private-sector investors would "in all likelihood" qualify as a default.
He said Greece's debt burden will be very high and S&P will likely downgrade Greece to "selective default" in the fall.
Meanwhile, investors waded through another round of corporate results, including Dow components Verizon (VZ, Fortune 500), McDonald's (MCD, Fortune 500), Johnson & Johnson (JNJ, Fortune 500) and Travelers (TRV, Fortune 500). Following Tuesday's trading day, tech leaders Apple (AAPL, Fortune 500) and Yahoo (YHOO, Fortune 500) will announce their results.
"Europe is the primary concern for investors, but we're also in the middle of earnings season, and that causes significant volatility in individual names and can certainly impact the overall market," said Ghriskey.
Following the release of their results, shares of Travelers, Verizon and McDonald's slid, making them the Dow's biggest laggards.
U.S. stocks closed flat Monday, with no major economic reports or company data for investors to chew on.
World markets: European stocks ended lower. Britain's FTSE 100 (UKX) slid 0.5%, the DAX (DAX) in Germany dropped 0.3% and France's CAC 40 (CAC40) lost 0.5%.
Markets in Hong Kong and Shanghai were closed Tuesday for Chinese New Year. Japan's Nikkei (N225) ended up 0.2%.
Companies: Following their fourth-quarter earnings reports, Coach (COH), Harley-Davidson (HOG, Fortune 500) and Regions Financial (RF, Fortune 500) shares jumped. Meanwhile, Texas Instruments (TXN, Fortune 500) shares slipped after its results were announced.
After the close, Apple posted a quarterly profit of $13 billion on all-time record revenue of $46.3 billion, as iPhone and iPad sales more than double. Shares gained in after-hours trading.
Also after the closing bell, Yahoo reported earnings in line with expectations, but revenue that fell slightly short. Shares edged higher in after-hours trading. Yahoo announced last week that company co-founder Jerry Yang resigned from its board of directors and all other positions at the company.
Economy: The International Monetary Fund lowered its outlook for the world economy on Tuesday, and warned that the global financial system faces growing risks from the debt crisis in Europe.
The IMF now expects the global economy to grow 3.3% in 2012, according to an update to its World Economic Outlook. In September, the IMF said the global economy would expand 4% this year.
The Federal Reserve is scheduled to start a two-day meeting, and will release forward-looking forecasts for the federal funds rate for the first time ever on Wednesday. The government also releases its first estimate of fourth-quarter economic growth on Friday.
Currencies and commodities: The dollar fell against the euro and the British pound but gained ground versus the Japanese yen.
Oil for March delivery decreased 63 cents to settle at $98.95 a barrel.
Gold futures for February delivery fell $13.80 to settle at $1,664.50 an ounce.
Bonds: The price on the benchmark 10-year U.S. Treasury rose slightly, pushing the yield down to 2.06% from 2.07% late Monday.
--CNNMoney's Ben Rooney contributed to this report.