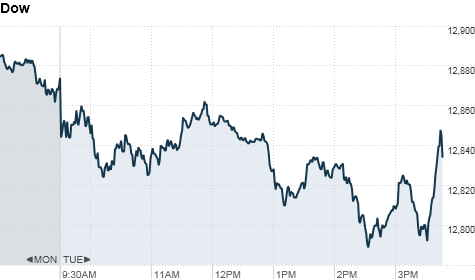 Click for more market data.
NEW YORK (CNNMoney) -- U.S. stocks recovered from earlier losses late Tuesday to closed mixed amid an uncertain situation in Greece, where political leaders are scrambling to secure a second bailout and avoid a default.
After falling more than 90 points earlier in the day, the Dow Jones industrial average (INDU) rose 4 points, or less than 0.1%, to end at 12,878. The S&P 500 (SPX) fell 1 point, or 0.1%, to 1,350. The Nasdaq (COMP) edged up less than 1 point to 2,932.
The rebound came after reports said Antonis Samaras, who leads Greece's conservative New Democracy party, will deliver a "letter of commitment" to euro area officials Wednesday.
The reports eased fears that talks in Athens over a second bailout are on the verge of falling apart. That forced some traders to unwind bets the market would fall further, said Joseph Saluzzi, co-head of equity trading at Themis Trading.
"A negative rumor came out in the afternoon and knocked the market down a bit, then a positive rumor came out late in the day, timed very appropriately, and the shorts got squeezed," said Saluzzi.
Stocks came under pressure earlier in the day after Jean-Claude Juncker, who heads the Eurogroup of eurozone finance ministers, canceled a Wednesday meeting to discuss a second bailout for Greece, announcing plans to hold a conference call instead. The ministers are set to hold their next official meeting March 20.
The delay is necessary to complete "further technical work" on the details of Greece's economic reform program, including a €325 million budget shortfall, according to Juncker.
In addition, Juncker said Greek political leaders have yet to provide assurances that the reforms will be implemented after elections are held later this year.
At issue is a €130 billion bailout, which Greece is negotiating with lenders at the European Union, International Monetary Fund and European Central Bank. Greece needs to secure additional bailout funds to avoid defaulting on a €14.5 billion bond redemption in March.
Meanwhile, stocks were also pressured by a U.S. government report that said overall retail sales edged higher in January, but the increase was smaller than expected as auto sales fell sharply. In addition, retail sales growth for the preceding two months was revised lower.
Stocks rose on the Greece austerity news Monday, but the gains were modest as worries about the fate of the debt-riddled nation continue to dominate.
World markets: European stocks closed lower. Britain's FTSE 100 (UKX) eased 0.2% and the DAX (DAX) in Germany lost 0.3%, while France's CAC 40 (CAC40) fell 0.4%.
Late Monday, Moody's downgraded six eurozone countries -- Italy, Malta, Portugal, Slovakia, Slovenia and Spain -- and the credit rating agency also warned that it may cut the outlooks for Aaa-rated Austria, France and the United Kingdom to "negative."
Moody's said the move reflects uncertainty about proposed fiscal reforms in the eurozone, the adequacy of the region's bailout resources and its weak economic outlook. But analysts said the downgrades could have been worse.
"Not quite the St. Valentine's Day Massacre, more of a drive-by shooting from Moody's as they amended ratings on nine European sovereigns," said Gary Jenkins, market analyst at Swordfish Research.
Asian markets ended mixed. The Shanghai Composite (SHCOMP) fell 0.3% while the Hang Seng (HSI) in Hong Kong rose 0.2%. An unexpected step by the Bank of Japan to ease its monetary policy sent the Nikkei (N225) higher by 0.6%.
Japan's central bank said it would expand its asset-purchase program to ¥65 trillion from ¥55 trillion by boosting its purchases of Japanese government bonds. The Bank of Japan also set an inflation target of 1%.
President Obama On Wednesday welcomed China's Vice President Xi Jinping for a two-day visit to Washington.
Economy: Retail sales were up 0.4% in January compared to December, the Commerce Department reported.
Sales were expected to have risen by 0.8%, according to a survey of economists by Briefing.com.
A surprise 1.1% drop in auto sales put a crimp in the overall advance. Excluding auto sales, retail sales rose 0.7% in the latest report.
The report revised December data lower, suggesting an even weaker holiday shopping season than previously reported. Overall spending was revised down to essentially no gain after a 0.1% increase in the initial report last month, and there is now a 0.5% drop in spending excluding autos.
"The retail sales number was the big news today," said Dan Greenhaus, market strategist at BTIG. While the report was not necessarily a surprise, it showed that "the consumer remains constrained," he added.
On Capitol Hill, the Senate finance and budget committees will discuss President Obama's budget proposal.
Companies: Shares of Michael Kors (KORS) surged after the fashion label posted better-than-expected fiscal third-quarter earnings and revenue, and also issued upbeat guidance for the fourth quarter.
Zipcar (ZIP), which made its stock market debut last April, posted a profit of $3.9 million, as revenues rose 21% to $62.9 million and total membership jumped 25% during the quarter.
Masco (MAS, Fortune 500) shares plunged after the home improvement and building products maker reported a narrower quarterly loss, but missed analysts' expectations.
Goodyear Tire (GT, Fortune 500) shares sank after the company reported a larger-than-expected quarterly loss.
Shares of Hospira (HSP) rose after the maker of injectable drug technologies reported quarterly results that beat analysts' expectations.
Watson (WPI), a maker of generic drugs, also reported better-than-expected quarterly results, sending its shares higher.
After the market closed, Zynga (ZNGA) reported a net loss in its first quarterly report as a public company, even as sales rose.
Currencies and commodities: The dollar fell against the euro and the British pound, but rose versus Japanese yen.
Oil for March delivery fell 17 cents to settle at $101.74 a barrel.
Gold futures for April delivery fell $7.20 to end at $1,717.70 an ounce.
Bonds: The price on the benchmark 10-year U.S. Treasury was higher, with the yield falling to 1.92% from 1.99% late Monday.