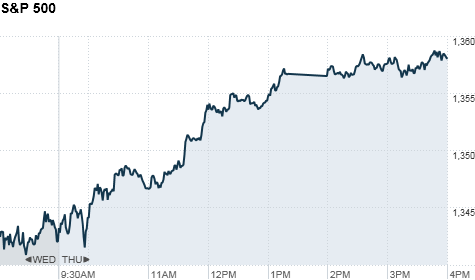 Click chart for more markets data.
NEW YORK (CNNMoney) -- U.S. stocks closed more than 1% higher Thursday as positive domestic economic data comforted investors nervous about Greece's ability to secure a second bailout.
Investors confidence pushed the Dow to its highest level since May 2008. The Nasdaq hit a peak it hasn't seen since December 2000.
Unemployment figures and housing numbers released ahead of the market's open continued to paint a picture of the U.S. economy on the verge of a comeback.
Auspicious U.S. economic numbers helped investors look beyond more negative signs from Europe. Moody's put 17 global banks and 114 European financial institutions on review for possible downgrades.
The Dow Jones industrial average (INDU) closed up 123 points, or 1%. The S&P 500 (SPX) gained 15 points, or 1.1%. The Nasdaq (COMP) added 44 points, or 1.5%.
"People know and are still fearful of the European Union crisis, but we're seeing that investors can look past that when they see positive economic news out of the United States," said Douglas DePietro, head of trading at Evercore Partners.
Indeed, Thursday's trading capped off yet another day when negative news from Europe failed to prompt a sell-off in stocks.
The Dow has now gone more than seven weeks without a triple-digit loss. Last year, it never went more than five weeks without suffering a 100-point-plus loss.
Nine of the global banks put on review by Moody's are headquartered in Europe, the agency said. Moody's added that Swiss banks Credit Suisse (CS) and UBS (UBS), as well as New York-based Morgan Stanley (MS, Fortune 500), could see their long-term ratings slashed by up to 3 notches.
U.S.-based Citigroup (C, Fortune 500), Goldman Sachs (GS, Fortune 500), JPMorgan Chase (JPM, Fortune 500) and Bank of America (JPM, Fortune 500) were also put on watch. By afternoon trading, these banks closed the day up between 1% and 4%.
Meanwhile, uncertainty remains over Greece and its efforts to secure much-needed additional bailout funds. European finance ministers delayed a decision on the bailout Wednesday, as they continue to evaluate a proposed austerity program from Athens.
The Eurogroup meets again Monday and indicated it would likely give its approval for the latest economic reform proposal, which Greece needs in order to secure bailout funds and avoid defaulting on a €14.5 billion bond redemption in March.
U.S. stocks closed lower Wednesday, as the euro hit a 1-week low on uncertainty over Greece's debt crisis.
World markets: European stocks ended the day in mixed territory. Britain's FTSE 100 (UKX) fell 0.1%, the DAX (DAX) in Germany dropped 0.1% and France's CAC 40 (CAC40) added 0.1%.
Asian markets ended lower. The Shanghai Composite (SHCOMP) and the Hang Seng (HSI) in Hong Kong slipped 0.4%, while Japan's Nikkei (N225) edged lower 0.2%.
Economy: Initial unemployment claims for the week ended Feb. 11 fell 13,000 from the prior week to 348,000, the Labor Department said, the lowest figure in nearly 4 years.
Economists were expecting 365,000 claims, according to consensus estimates from Briefing.com.
Housing starts for January rose 1.5% to an annual rate of 699,000, according to the Commerce Department. Building permits rose 0.7% to a 676,000 rate in January. Both totals were higher than expected.
The Producer Price Index for January rose 0.1%, following a decline of 0.3% the month prior. The index was expected to have increased by 0.3% last month.
Companies: General Motors (GM, Fortune 500) posted a record $7.6 billion net profit for 2011, making it the first year since 2004 that all Big Three automakers -- GM, Ford (F, Fortune 500) and Chrysler (DAI) -- were profitable. General Motors' stock closed up more than 9%.
DirectTV (DTV, Fortune 500) beat earnings and sales estimates during the fourth quarter, with particular strength coming from the company's presence in Latin America. DirectTV also announced a $6 billion stock buyback program. Despite the positive earnings, its stock fell 3%.
Shares of J.M. Smucker (SJM, Fortune 500) slid 8% after the maker of Jif peanut butter and Folgers coffee posted a 11% drop in its fiscal third-quarter profit that was also below expectations.
Shares of Amazon (AMZN, Fortune 500) were down 2.5% after Apple (AAPL, Fortune 500) asked the e-commerce company to halt sales of the iPad in China. The move came after Apple lost a trademark dispute over the "iPad" name in Chinese courts.
Currencies and commodities: The dollar was higher against the euro, the British pound and the Japanese yen.
Oil for March delivery added 50 cents to $102.30 a barrel.
Gold futures for April delivery moved up 5 cents to $1,726.80 an ounce.
Bonds: The price on the benchmark 10-year U.S. Treasury dropped, pushing the yield up to 1.99% from 1.93% late Wednesday.
CNN's Drew Trachtenberg contributed to this report.