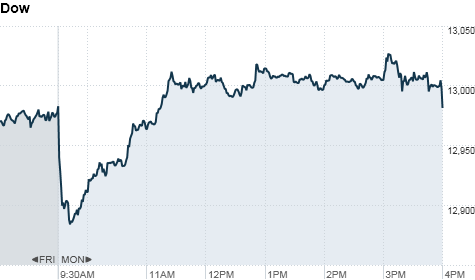 Click for more market data.
NEW YORK (CNNMoney) -- U.S. stocks ended little changed Monday as investors weighed an upbeat housing report against worries about the debt crisis in Europe and rising gas prices.
The Dow Jones industrial average (INDU) fell 1 point, or less than 0.1%, to end at 12,981. The Dow rose above 13,000 earlier in the day, but struggled to hold that level, at which it has not finished since May 2008.
The S&P 500 (SPX) rose 2 points, or 0.1%, to 1,367. The tech-heavy Nasdaq (COMP) added 2 points, or less than 0.1%, to 2,966.
All three indexes started the day in the red, after global finance ministers said over the weekend that European Union leaders need to strengthen their financial firewall before other nations will back more money for the International Monetary Fund.
But trading improved after the National Association of Realtors said its index of pending home sales rose to the highest level since April 2010.
"I think the housing numbers caught people by surprise," said Anthony Conroy, head trader at BNY ConvergEx Group. While concerns about Europe remain, "the news out of the U.S. has been mostly positive," he added.
Meanwhile, the German Parliament approved the nation's contribution to a second €130 billion bailout for Greece, as expected. Finland and the Netherlands are also expected to back the bailout this week.
Aside from Europe, investors were also keeping an eye on the oil market. Crude futures eased Monday after climbing above $109 a barrel Friday.
Oil prices have risen recently on heightened tension with Iran, translating into higher prices for gasoline in the United States. Some investors worry that higher gas prices could cause the economic recovery to stall if consumers change their spending habits.
"Rising oil prices may shadow eurozone debt concerns as the main culprit to cooling global growth and the next pullback in equities," said Ashraf Laidi, chief executive at Intermarket Strategies.
However, he noted that it's unclear if oil prices are being driven by supply concerns, stronger global demand or speculation by investors. "It can be a combination of all three," said Laidi.
In the week ahead, investors will look for more signs of momentum in the U.S. economy, after the S&P closed Friday at its highest levels since June 2008.
Economy: The Realtors' index of pending home sales rose 2% in January to 97. It was the highest reading since April 2010, when the index reached 111.3, as buyers were rushing to take advantage of the home buyer tax credit.
The housing index, which measures home sales that are in contract but have not closed, was expected to have risen by 1%, according to economists surveyed by Briefing.com.
World markets: European stocks closed lower. Britain's FTSE 100 (UKX) shed 0.3% and France's CAC 40 (CAC40) lost about 0.8%, while the DAX (DAX) in Germany dropped 0.1%.
Asian markets ended mixed. The Shanghai Composite (SHCOMP) closed up 0.3%, while the Hang Seng (HSI) in Hong Kong fell 0.9% and Japan's Nikkei (N225) slipped 0.1%.
Companies: Priceline.com (PCLN) reported quarterly earnings late Monday that beat analysts' expectations, sending shares up 4% after the market closed.
The hotel reservation website fronted by William Shatner earned $5.37 per share in the fourth quarter, up from $3.40 a share in the same period last year. Analysts were expecting $5.05 per share, according to a survey by Thomson Reuters.
Earlier, Lowe's (LOW, Fortune 500) shares popped after the home improvement retailer posted better-than-expected earnings and sales for the fourth quarter. Lowe's also issued healthy guidance for 2012.
Transocean (RIG) booked a $6.1 billion loss, mostly on one-time charges including a $1 billion estimated loss on the 2010 spill at its Deepwater Horizon rig in the Gulf of Mexico. But shares of the company rose as revenue climbed 11% during the quarter and topped expectations.
Motorola Solutions (MSI, Fortune 500) said that it bought back $1.2 billion in stock from activist investor Carl Icahn and affiliates. As part of the transaction, Vincent J. Intrieri, a director of Icahn Enterprises G.P., agreed to resign from the Motorola Solutions' board of directors.
Over the weekend, Berkshire Hathaway (BRKA, Fortune 500) reported that its book value per share rose 4.6% in 2011 -- hardly a mighty leap but enough for the company's chairman, Warren Buffett, to meet his annual goal of beating the total return of the S&P 500 index, which climbed 2.1%.
Currencies and commodities: The dollar gained strength against the euro and the British pound, but fell versus the Japanese yen.
Oil for April delivery slipped $1.21 to settle at $108.56 a barrel.
Gold futures for April delivery fell $1.50 to end at $1,774.90 an ounce.
Bonds: The price on the benchmark 10-year U.S. Treasury rose, pushing the yield down to 1.92% from 1.98% late Friday.