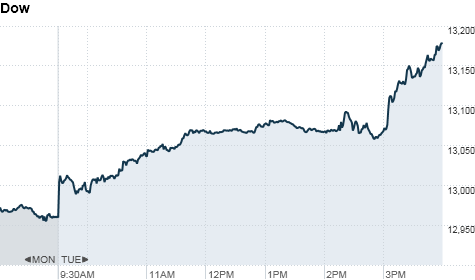 Click for more market data.
NEW YORK (CNNMoney) -- U.S. stocks rallied late Tuesday to close sharply higher on news that most of the nation's largest banks have passed the government's latest test of their financial health.
The Dow Jones Industrial average (INDU) rose 218 points, or 1.8%, to close at 13,177. It was the highest close since Dec. 31, 2007, when Dow closed at 13,264.82.
The S&P 500 (SPX) added 25 points, or 1.8%, to 1,396.
The Nasdaq (COMP) jumped 56 points, or 1.9%, to 3,040. It was the highest closing level since Nov. 15, 2000.
Stocks surged in the final hour of trade after JPMorgan Chase (JPM, Fortune 500) said the Federal Reserve had approved its capital plans for the year.
JPMorgan made the disclosure in announcing plans to raise its dividend payment to 30 cents a share and buy back $15 billion in stock.
The Fed subsequently released the results of its so-called bank stress tests late Tuesday, two days ahead of schedule. The tests are designed to assess banks' ability to withstand a significant financial shock or economic downturn.
The Fed said 15 of the 19 banks it tested had sufficient capital levels. The banks that did not meet the minimum requirements were Citigroup (C, Fortune 500), SunTrust (STI, Fortune 500) and MetLife (MET, Fortune 500) and privately-held Ally.
Earlier, stocks were supported by a solid report on retail sales, which raised hopes that higher gas prices will not dent consumer spending. Investors also welcomed a more upbeat assessment of the economy from the Federal Reserve.
The central bank said the job market has improved, consumer spending has increased and inflation is under control despite higher oil and gas prices.
But the Fed warned that the housing market remains "depressed" and that the economy remains vulnerable to "strains" in global financial markets.
As expected, the Fed's Open Market Committee voted to keep interest rates near zero.
"It's clear to everyone that the Fed is on hold for foreseeable future," said Doug Roberts, chief market strategist for Channel Capital Research and author of Follow the Fed to Investment Success.
Roberts said stocks are now "in the sweet spot" between the Fed's accommodative policies and an economy that's on the mend.
"This is a liquidity driven rally," he said. "As long as the Fed continues to print money, the market can continue to go higher."
Stocks have rallied this year on steadily improving U.S. economic data and hopes for a lasting solution to Europe's debt crisis. But trading volumes have been low as nervous investors pulled money out of retail investment funds.
"There has been a lot of skepticism so far, but I think people are starting to believe in the rally," said Bernard Kavanagh, vice president of portfolio management for St. Louis-based broker Stifel Nicolaus.
Kavanagh said stocks will probably keep climbing as economic conditions improve and corporate profits continue rising, albeit at a slower pace. In addition, he said the market remains relatively cheap, with stock valuations below their long-term averages.
U.S. stocks closed mixed on Monday, as investors hesitated to place any big bets ahead of the Fed's meeting.
Bonds: The Fed also voted to leave unchanged its ongoing stimulus programs, including an operation to shift $400 billion from short-term to long-term bonds -- known as Operation Twist.
While the Fed signaled that it remains prepared to support the economy if conditions deteriorate, analysts say the central bank is not likely to launch a third round of bond buying in the near term.
"Given the strength of the incoming economic data, including the upward revisions to retail sales and inventories reported today, it would be hard for the Fed to justify more bond buying now," said Paul Ashworth chief U.S. economist at Capital Economics, in a note to clients.
The price on the benchmark 10-year U.S. Treasury dropped, pushing the yield up to 2.11% from 2.03% late Monday.
Economy: The government reported Tuesday morning that retail sales rose 1.1% in February, boosted by a surge in gasoline prices. That was slightly above the 1% rise anticipated by economists.
A separate report showed business inventories increased 0.7% in January, compared with a forecasted rise of 0.6%.
Companies: Investors bought shares of companies that develop rare earth minerals after the United States, the European Union and Japan filed a trade case over China's export restrictions on the crucial raw materials used in many high-tech devices.
Shares of Molycorp (MCP) and Rare Earth Ltd. (REE) were both significantly higher.
Intel (INTC, Fortune 500) shares nudged higher after reports that the chipmaker is planning an Internet-based television service.
Shares of Urban Outfitters (URBN) sank after the retailer said profits fell 47% last year.
Yahoo (YHOO, Fortune 500) filed a lawsuit against Facebook late Monday, alleging that the social media giant infringed on 10 of its patents related to advertising, privacy, customization, messaging and social networking.
Currencies and commodities: The dollar strengthened against the euro and the Japanese yen, but lost ground against the British pound.
Oil for April delivery rose 37 cents to settle at $106.71 a barrel.
Gold futures for April delivery lost $5.60 to end at $1,694.20 an ounce.
World markets: Asian markets finished higher. The Shanghai Composite (SHCOMP) rose 0.9% and Japan's Nikkei (N225) ticked up 0.1%, while the Hang Seng (HSI) in Hong Kong added 1.0%.
The European Union signed off Tuesday on another Greek bailout package after the country successfully completed a debt swap. On Thursday, the International Monetary Fund is expected to back a €28 billion contribution over four years to the program. The rescue payment totals €130 billion.
The news helped bolster European stocks. Britain's FTSE 100 (UKX) gained 1%, France's CAC 40 (CAC40) jumped 1.2% and the DAX (DAX) in Germany rose 0.9%.