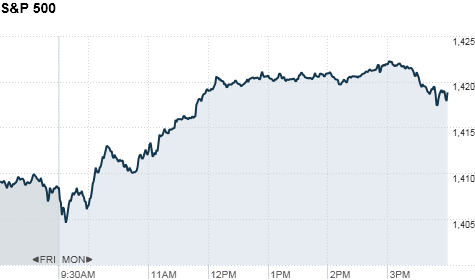 Click chart for more markets data.
NEW YORK (CNNMoney) -- U.S. stocks closed higher Monday. The latest U.S. manufacturing numbers gave investors reason to keep the stock market's rally going on the first day of the second quarter.
While the March manufacturing report only narrowly beat expectations, investors were energized because the report showed U.S. prices rising less than expected, signaling that inflation may not be a near-term concern.
"Inflation appears to be in check," said Sal Arnuk, co-head of trading at Themis Trading. "Investors now think that it gives reason for the Fed to continue with its very, very easy monetary policy."
The Dow Jones industrial average (INDU) added 52 points, or 0.4%. The S&P 500 (SPX) rose 10 points, or 0.7%. The Nasdaq (COMP) gained 28 points, or 0.9%.
Energy and materials stocks were among the biggest gainers, with mining company Freeport-McMoRan (FCX, Fortune 500), agricultural firm Monsanto (MON, Fortune 500) and United States Steel (X, Fortune 500) all gaining roughly 1%.
Still, market participants said trading was light Monday, and they expect the markets to stay mostly quiet this week ahead of Easter.
Heading into the trading day, investors digested manufacturing data from Europe and China that illustrated weaknesses in their respective economies.
"When you take a step back and look at the U.S. economy, we're muddling through but not knocking the ball out of the park," said Joe Tanious, global market strategist at J.P. Morgan Asset Management. "In Europe, the economies are slowing, and that reminds us that the sovereign debt issues in Europe are far from over."
Monday's economic data follows last week's string of underwhelming reports. What investors are really waiting for is the all-important March jobs report due Friday, although the U.S. stock market will be closed in observance of Good Friday.
Despite recent weak reports on housing and durable goods, stocks have largely been on a tear, with the Dow and S&P 500 ending their best first quarter in over a decade last week. The Nasdaq had its best first quarter since 1991.
The gains have been driven by generally improving economic data in the United States and easing concerns about the debt crisis in Europe. Stocks have also been supported by expectations that the Federal Reserve will continue to support the economy.
"Looks like a little softer start to the week, but I don't think anyone could anticipate the kind of lift we had during the first three months of the year," said Mark Luschini, chief investment strategist at Janney Montgomery Scott.
If history is any guide, though, April will be another strong month.
The S&P 500 has risen every April for the past five years, according to Schaeffer's Investment Research. The index has returned an average of 4.5% in April over the same period, making it the best month for the market by far.
Over the weekend, investors got a mixed view of China's crucial manufacturing sector. Worries about a slowdown in China have tempered investor enthusiasm lately.
U.S. stocks closed mixed Friday, as investors weighed a report on consumer spending and a boost to the eurozone bailout fund.
Economy: The March installment of the ISM Manufacturing Index came in above expectations at 53.4, up from 52.4 in the month prior, according to a survey of analysts by Briefing.com.
February construction spending declined by 1.1%. Economists had predicted a 0.5% increase in spending.
Companies: Shares of cosmetics maker Avon Products (AVP, Fortune 500) spiked after competitor Coty announced that it had offered to acquire Avon for roughly $10 billion in cash.
Coty said in a statement that it had made "extensive but unsuccessful attempts to engage Avon in discussions regarding its proposal," and therefore decided to make the offer public in order to inform Avon shareholders. Coty added that it has no intention of pursuing a hostile takeover.
Credit card processor Global Payments (GPN) continued to plunge, after dropping 9% Friday on news that the company had fallen victim to a data breach, potentially compromising credit and debit card information from all of the major card brands, including Visa (V, Fortune 500) and MasterCard (MA, Fortune 500).
Shares of daily deals site Groupon (GRPN) were down more than 10%, after the company announced Friday that it was revising its fourth-quarter income and sales lower due to a higher rate of customers seeking refunds.
Groupon also said its auditor had discovered a deficiency in the site's financial statement close process, which covers the steps companies go through at the end of each quarter to ensure that all of their financial transactions have been accurately recorded and reported.

World markets: European stocks closed higher. Britain's FTSE 100 (UKX) gained 1.9%, the DAX (DAX) in Germany added 1.6% and France's CAC 40 (CAC40) rose 1.1%.
Asian markets finished little changed. The Hang Seng (HSI) in Hong Kong slipped 0.16% and Japan's Nikkei (N225) ended up 0.26%. The Shanghai Composite (SHCOMP) was closed for a holiday.
Currencies and commodities: The dollar fell slightly against the British pound and the Japanese yen but gained slightly against the euro.
Oil for May delivery rose $2.21 to $105.23 a barrel.
Gold futures for April delivery gained $8.20 to $1,677.50 an ounce.
Bonds: The price on the benchmark 10-year U.S. Treasury rose, pushing the yield down to 2.18%.