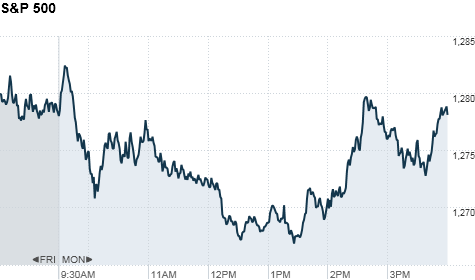 Click chart for more markets data.
NEW YORK (CNNMoney) -- Worries about a global growth slowdown and uncertainty surrounding Europe's debt crisis kept investors on edge and trading choppy on Monday.
Still, U.S. markets ultimately closed the day not far from where they opened.
"Europe is front and center, back, left and right," said Dan Greenhaus, chief global strategist at BTIG.
Anxieties over the health of the Spanish banking system and the possibility that Greece could soon exit the euro remain high.
"Last week was so terribly negative that even the absence of negative news gives some support to the market," Greenhaus added.
Still it's impossible to ignore the fear factor still gripping the markets as 10-year Treasury yields remain near all-time record lows. That shows that global investors are willing to forego returns simply for the safety of holding debt backed by the U.S. government.
CNNMoney's Fear and Greed Index remained deeply entrenched in extreme fear territory.
There are also worries about slowing growth in emerging markets such as China and India. Recent reports out of China last week showed the manufacturing sector contracted more than expected in May.
The S&P 500 (SPX) closed flat. The Nasdaq (COMP) gained 12 points, or 0.5%. The Dow Jones industrial average (INDU) dropped 17 points, or 0.1%.
Trading was light on both sides of the Atlantic Monday, according to several traders. Investors are wary of making major moves before they know whether central bankers in Europe and the U.S. would consider further stimulus.
Investors are betting that European leaders might be willing to make tough choices to stave off larger problems in the region.
"There's a belief that with their backs against the wall, European leaders will at least come up with a short-term resolution to help the Spanish banking system," said Peter Boockvar, equity strategist at Miller Tabak.
U.S. stocks tumbled more than 2% Friday in the worst trading day of the year. The Dow erased all its gains for 2012, and the S&P 500 and Nasdaq moved into correction territory -- down more than 10% from the year's highs.
Bond prices retreated slightly in Monday trading, allowing the yield on the 10-year note to rise just above 1.5%.
World markets: European stocks closed mixed. The DAX (DAX) in Germany fell 1.2%, while France's CAC 40 (CAC40) rose 0.1%. British markets were closed for a bank holiday.
Asian markets ended lower in their first day of trading since the U.S. jobs report. The Shanghai Composite (SHCOMP) tumbled 2.7%, and the Hang Seng (HSI) in Hong Kong fell 2%. The Nikkei (N225) in Tokyo fell 1.7%.
Economy: Factory orders declined 0.6% in April, the government reported Monday. The report was weaker than the 0.1% increase expected by economists surveyed by Briefing.com. The March decline was revised to a deeper 2.1% drop.
Companies: Shares of Facebook (FB), which have gotten hammered since the company's IPO, continued to fall.
Groupon (GRPN) shares dropped more than 7% after falling sharply Friday. The online discount service, which has been dogged with questions about its accounting practices since its initial public offering in November, ended its lock-up period Friday, meaning that insiders who own shares are now able to sell them.
Shares of Chesapeake Energy (CHK, Fortune 500) rose after the embattled natural gas company said it is replacing four members of its board of directors in response to urging from two of its largest shareholders, including Carl Icahn.
Shares of AutoNation (AN, Fortune 500), the largest U.S. car dealership, jumped after it reported its May new car sales rose 45%. That was almost twice as good as the 26% rise in industry-wide U.S. car sales reported by major automakers Friday. But the industry-wide sales pace was generally less than forecast, as it was the weakest pace of 2012.
Shares of Starbucks (SBUX, Fortune 500) rose after the coffee chain said its top executives would discuss new steps to boost its domestic retail business later Monday.
Research in Motion's (RIMM) stock sank to a low not seen since 2003 amid growing speculation that the BlackBerry maker will soon put itself up for sale.
Currencies and commodities: The dollar rose against the euro and Japanese yen, but fell versus the British pound.
Oil for July delivery gained $1.07 to $84.30 a barrel.
Gold futures for August delivery lost 70 cents to $1,621.40 an ounce.