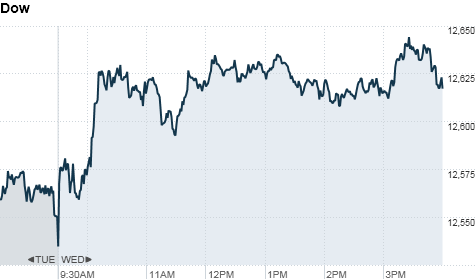 Click the chart for more stock markets data
NEW YORK (CNNMoney) -- Stock markets closed with solid gains Wednesday following strong reports on durable goods and housing, but worries over the EU summit remain front and center.
The Dow Jones industrial average (INDU) added 92 points, or 0.7%, the S&P 500 (SPX) rose 12 points, or 0.9%, and the Nasdaq (COMP) gained 21 points, or 0.7%.
Durable goods orders for May increased 1.1% to $217.2 billion. And May pending home sales rose to their highest level in two years. That's the third positive housing report this week, and investors are taking heart.
"These are good data points because housing really demonstrates employment and the durable goods number says businesses are spending," said Kim Caughey Forrest, senior equity analyst at Fort Pitt Capital Group.
Analysts cautioned that the focus will quickly shift across the Atlantic after a key meeting of European leaders gets underway on Thursday.
European leaders are under pressure to announce plans to backstop the debts of struggling nations, while also laying the groundwork for future growth.
The leaders will discuss "building blocks," including an economic stimulus and the formation of a banking union, to address long-term challenges facing the eurozone.
But analyst expectations are low as investors grow more skeptical that anything concrete will emerge from the summit.
"We're expecting it to be another meeting where everyone agrees to work together but nothing will come out of it," said Brian Lazorishak, senior vice president for Chase Investment Counsel. "That's what we've seen for the last few summits, and we're not anticipating any major market news out of this one, either."
Spain has been particularly troublesome recently, with its sky-high borrowing costs and struggling banking sector.
Prime Minister Mariano Rajoy told Spain's parliament Wednesday that the country could not continue to finance at current prices for much longer.
Spain's central bank also issued a cautious note about the country's economy. "The most recent information for the [latest period] indicates that activity continued declining at a more intense pace," the Bank of Spain said in its monthly report.
U.S. stocks held onto modest gains Tuesday, as investors remained cautious ahead of the summit.
World markets: European stocks closed higher. Britain's FTSE 100 (UKX) gained 1.4%, the DAX (DAX) in Germany added 1.5%, and France's CAC 40 (CAC40) was up 1.5%.
Asian markets ended mixed. The Shanghai Composite (SHCOMP) slid 0.2%, while the Hang Seng (HSI) in Hong Kong moved up 1%, and Japan's Nikkei (N225) rose 0.8%.
Companies: Pesticide-maker Monsanto (MON, Fortune 500) reported quarterly earnings of $1.63 a share on $4.2 billion in revenue, slightly better than expected.
Food producer General Mills (GIS, Fortune 500) posted quarterly and annual earnings, missing forecasts on both. CEO Ken Powell said rising commodity costs -- the highest in more than 30 years -- cut into profits.
Investors are also keeping tabs on Facebook (FB), since Wednesday is the end of the so-called quiet period, allowing analysts to publish research on the social media company's estimated value.
Homebuilder Lennar (LEN) jumped after reporting higher-than-expected earnings for the second quarter, with net income beating Wall Street's expectations.
Google (GOOG, Fortune 500) unveiled its first tablet, the Nexus 7, at the company's I/O developers conference in San Francisco on Wednesday. The tablet, made by Asus, will retail for $199 and will begin shipping in mid-July.
With a 7-inch screen and a focus on magazine and book content, the Nexus 7 will be in direct competition with Amazon's (AMZN, Fortune 500) Kindle Fire. Shares of Google and Amazon were up on the news.
Shares of News Corp (NWSA, Fortune 500) edged higher, after surging more than 8% Tuesday. News Corp. said it may split into two entities -- one comprising the 20th Century Fox film studio, the Fox broadcast network and the Fox News Channel, and the other housing its newspaper and book publishing businesses.
Shares of Best Buy (BBY, Fortune 500) rebounded after reports that the retailer's founder, Richard Shulze, may be selling his stake in the company.
Currencies and commodities: The dollar rose against the euro, British pound and Japanese yen.
Oil for August delivery settled up 88 cents to $80.24 a barrel.
Gold futures for August delivery rose $3.50 to settle at $1,578.40 an ounce.
Bonds: The price on the benchmark 10-year U.S. Treasury fell, pushing the yield up to 1.62%.