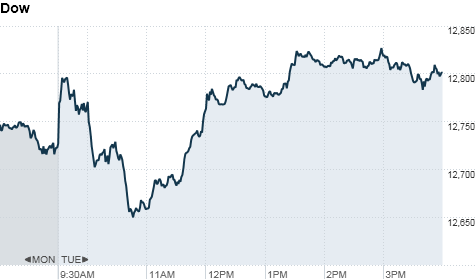 Click the chart for more stock markets data
NEW YORK (CNNMoney) -- U.S. stocks held on to their rally as markets closed Tuesday, as investors digested testimony from Fed chairman Ben Bernanke and refocused on positive earnings.
The Dow Jones industrial average (INDU) rose 78 points, or 0.6%, the S&P 500 (SPX) added 10 points, or 0.7%, and the Nasdaq (COMP) gained 13 points, or 0.5%.
Bernanke told a Senate panel that risks to economic growth have heightened and that the Fed is "looking for ways to address the weakness in the economy should more action be needed."
Bruce McCain, chief investment strategist for Key Private Bank, said markets staged a comeback because Bernanke's testimony didn't kill all hope for further central bank action.
"The disappointment that there was nothing promised from Bernanke caused the markets to sell off," he said. "But upon reflection, he also didn't say no, so that keeps the hope alive."
Investors were looking for hints of additional stimulus, including the possibility of more bond buying, or quantitative easing. Bernanke was non-committal.
While Bernanke's testimony dashed hopes of a quick fix, investors may be better off in the long run, said Kim Caughey Forest, senior equity analyst for Fort Pitt Capital Group.
"Bernanke was saying, 'Let's fix what's wrong rather than focusing on the short term,'" she said. "Overall, investors should want the economy to improve for good fundamental reasons, not for the Fed manipulating it."
As dust settled with Bernanke's testimony, investors focused on the better-than-expected earnings from Coca-Cola (KO, Fortune 500), Mattel (MAT, Fortune 500) and Goldman Sachs (GS, Fortune 500) along with several economic reports that showed modest improvement.
Intel (INTC, Fortune 500) reported better-than-expected earnings after the bell, but revenue was slightly below forecast and the guidance was somewhat muted.
U.S. stocks finished lower Monday as investors moved into Treasuries, sending the 10-year yield to a record low after disappointing June retail sales data.
World markets: European stocks closed mixed on Tuesday. Britain's FTSE 100 (UKX) was 0.5% lower and France's CAC 40 (CAC40) fell 0.2%, while the DAX (DAX) in Germany added 0.1%.
Germany's high court said it will be another eight weeks before it issues a decision on the legality of the multinational bailout fund, the European Stability Mechanism.
Spain's auction of 12- and 18-month debt resulted in lower yields than last month. But debt worries remain, and the yield on Spain's 10-year note edged up to 6.80%, closer to the 7% mark, which the nation's prime minister deemed untenable.
Asian markets closed higher. The Shanghai Composite (SHCOMP) rose 0.6%, the Hang Seng (HSI) in Hong Kong gained 1.8%, and Japan's Nikkei (N225) added 0.4%.
Economy: Consumer prices rose at a 1.7% annual rate in June, unchanged from May.
The Federal Reserve reported that June industrial production rose 0.4%, beating economist expectations of 0.3%.
Companies: Goldman Sachs beat expectations and reported earnings per share of $1.78 on $6.63 billion in revenue.
Coca-Cola reported earnings per share of $1.21 on revenue of $13 billion. Both figures were better than analysts' forecasts.
Shares of Johnson & Johnson (JNJ, Fortune 500) were up after the company reported earnings per share of $1.30 and revenue of $16.5 billion, which was lower than expected.
Facebook's (FB) stock continued to slid Tuesday, a day after shares fell 8%. After a botched public debut, the stock has struggled to move back toward its IPO price of $38 a share.
Sprint Nextel (S, Fortune 500) shares edged higher as the telecom company launched faster service in 15 U.S. cities. The new 4G LTE network is about 10 times faster than the commonly used 3G and is available on five of its phones.
Yahoo (YHOO, Fortune 500) shares lost traction after the company named Marissa Mayer, a Google (GOOG, Fortune 500) executive who was one of the first two dozen employees at the search leader, as its new CEO on Monday. Yahoo reports earnings after the closing bell Tuesday.
HSBC (HBC) shares fell after a U.S. Senate report released late Monday said HSBC failed to prevent billions of dollars worth of money transfers that investigators believe were linked to drug cartels and terrorist groups.
Shares of toy-maker Mattel were up after the company reported a 20% jump in second-quarter earnings, helped by strong sales of Barbie, Hot Wheels and American Girl.
Currencies and commodities: The dollar fell against the euro and British pound, but gained versus the Japanese yen.
Oil for August delivery settled up 79 cents to $89.22 a barrel.
Gold futures for August delivery fell $2.10 to $1,589.50 an ounce.
Bonds: The price on the benchmark 10-year U.S. Treasury fell, pushing the yield up to 1.50% from 1.46% late Monday.