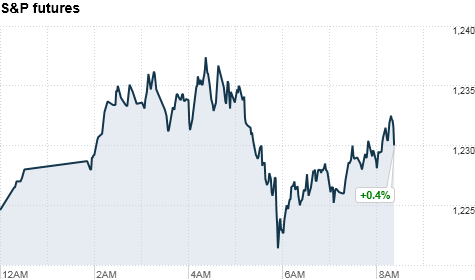 Click on chart for more premarket data.
NEW YORK (CNNMoney) -- U.S. stocks were headed for a modestly higher open Wednesday as developments in Greece kept investors cautious.
The Federal Reserve is also wrapping up a two-day policy meeting. While rates are expected to remain unchanged, investors are increasingly hopeful that Fed chairman Ben Bernanke will hint at new plans to help the struggling economy.
The Dow Jones industrial average (INDU), S&P 500 (SPX) and Nasdaq (COMP) futures were all slightly higher. Stock futures indicate the possible direction of the markets when they open at 9:30 a.m. ET.
Futures bounced around breakeven for much of the morning, gaining some support after payroll processor ADP said private-sector payrolls rose by 110,000 in October.
On Tuesday, new fears about the fate of the European rescue plan reverberated through stock markets in the United States and around the world. U.S. stocks ended sharply lower across the board, with bank stocks hit especially hard.
The bad news was propelled by Greek Prime Minister George Papandreou's surprise announcement that he would put his country's participation in last week's European debt plan to a voter referendum.
Late Tuesday, Greece's cabinet voted to hold a referendum.
But as heads of state descend on Cannes, France, for this week's G-20 summit, investors remain skittish about placing any big bets. Several high profile meetings about how to handle the turmoil in Europe and Greece are taking place Wednesday, a day ahead of the summit's official kick-off.
"Financial markets are waiting with bated breath for the next announcement from a European politician -- tensions are understandably high," said Andrew Milligan, head of global strategy at Standard Life Investments.
Economy: ADP reported a jump in private-sector payrolls in October and revised its previous month higher. ADP's new September figure showed an increase of 116,000 jobs, up from the earlier report of 91,000.
The Federal Reserve concludes its two-day meeting, with a policy statement due out at 12:30 p.m. ET. Bernanke will hold a news conference at 2:15 p.m. ET.
Milligan says investors shouldn't look for drastic changes.
"We are not expecting decisive action from the FOMC meeting," he said. "The U.S. economy continues to recover slowly into year end."
Meanwhile, a jobs report from outplacement consulting firm Challenger, Gray & Christmas showed planned layoffs dropped 63% to 42,759 in October from the prior month.
Companies: Sony (SNE) posted results that fell short of analysts' expectations. The electronic maker lost 35 cents per share, attributing the decline to the flood in Thailand and lack of demand for its LCD TV.
Time Warner (TWX, Fortune 500), the parent company of CNNMoney beat analysts' expectations. The media conglomerate said Wednesday it earned $836 million, in adjusted net income, or 79 cents a share, in the third quarter.
Comcast (CMCSA, Fortune 500) also reported third quarter results ahead of the opening bell. The company earned 33 cents per share. That's a 6.5% increase from the 31 cents per share reported in the third quarter of 2010.
Kraft Foods (KFT, Fortune 500) will report its quarterly earnings after the market close.
World markets: European stocks were mixed in midday trading. Britain's FTSE 100 (UKX) lost 0.4%, the DAX (DAX) in Germany edged up 0.7% and France's CAC 40 (CAC40) gained 0.8%.
Asian markets ended mixed. The Shanghai Composite (SHCOMP) rose 1.4% and the Hang Seng (HSI) in Hong Kong added 1.9%, while Japan's Nikkei (N225) fell 2.2%.
Currencies and commodities: The dollar lost strength against the euro, the Japanese yen and the British pound.
Oil for December delivery gained $1.24 to $93.43 a barrel.
Gold futures for December delivery rose $19.10 to $1,730.90 an ounce.
Bonds: The price on the benchmark 10-year U.S. Treasury was little changed, with the the yield holding steady at 2% since late Tuesday.