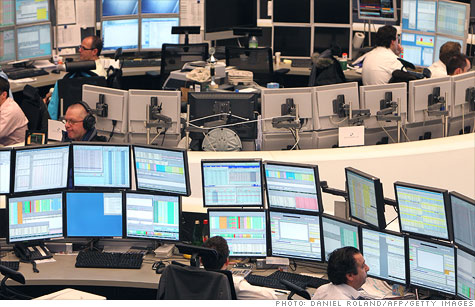 Brokers on the stock exchange floor in Frankfurt last month.
NEW YORK (CNNMoney) -- European stocks closed slightly higher Monday, shrugging off Standard & Poor's downgrade of nine eurozone governments.
The market wavered between minor gains and losses before ending slightly higher. Britain's FTSE 100 (UKX) ticked up 0.4%, the DAX (DAX) in Germany gained 1.3% and France's CAC 40 (CAC40) added 0.9%.
Shares of French banks BNP Paribas, Credit Agricole and Societe Generale all closed higher by more than 1%.
Meanwhile, Asian stocks ended lower Monday. The Shanghai Composite (SHCOMP) dropped 1.7%, the Hang Seng (HSI) in Hong Kong shed 1% and Japan's Nikkei (N225) lost 1.4%.
U.S. markets are closed Monday in observance of the Martin Luther King Jr. Day holiday, but markets were hit by downgrade chatter on Friday.
U.S. stocks sold off during that trading session, but those losses were later cut in half by the time the market closed. The S&P 500 (SPX) ended Friday down 0.5%, the Dow industrials (INDU) dropped 0.4%, and Nasdaq Composite (COMP) fell 0.5%.
S&P announced the downgrades Friday after the markets closed.
"Markets at the moment see the European situation as more of political problem than a financial one," said David Jones, chief market strategist at IG Markets. "That's why we're seeing markets hardly flinch on the news."
Meanwhile, the euro fell to its lowest level against the U.S. dollar since August 2010. The euro has struggled for months, falling 10% from late October, when it was trading at $1.41.
"The euro will fall further, even though downgrades were not a surprise," said Societe Generale currency analyst Sebastien Galy, in a research note. "The ECB's increased liquidity provision is helping both banks and peripheral bond markets at the expense of the currency."
The European Central Bank pumped nearly €500 billion into the banking system in December, and is expected to unleash another round of financing help later this year.
S&P also lowered its rating for Italy, Spain, Portugal and Cyprus by two notches. The move means Italian bonds are now rated BBB+, dangerously close to the junk bond level that could make it even harder for the government to raise money.
A French auction of short-term debt fared well, with €8.6 billion sold at yields slightly below those drawn during last week's auctions.
"Market players or rating agencies sometimes consider our response as incomplete or insufficient. Yet, real progress has been made," said European Council President Herman Van Rompuy, following a meeting with Italian Prime Minister Mario Monti.
S&P said Friday that the downgrades reflect a combination of economic and financial issues, as well as "an open and prolonged dispute among European policymakers over the proper approach to address challenges."
Rompuy echoed comments made by Italian, French and German leaders last week that the fiscal pact would be agreed to by the European Union summit on Jan. 30 and that it would be signed by March.
Last August, the United States had its AAA rating cut one notch by S&P amid a political impasse over the nation's debt ceiling.