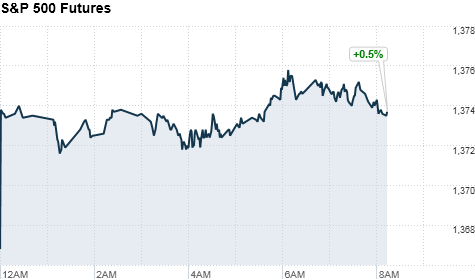 Click chart for more premarkets data.
NEW YORK (CNNMoney) -- U.S. stocks were headed for a higher open Tuesday as investors turned their attention to the Federal Reserve meeting, which wraps up this afternoon.
The Dow Jones Industrial average (INDU), S&P 500 (SPX), and Nasdaq (COMP) futures were up about 0.5%. Stock futures indicate the possible direction of the markets when they open at 9:30 a.m. ET.
The central bank is not expected to announce any changes to interest rates, which remain near zero.
The Fed is also not expected to announce any major policy measures. But investors will look for clues as to how the central bank plans to proceed in the coming months, in light of recent upbeat reports on the job market and the broader U.S. economy.
U.S. stocks closed mixed on Monday, as investors hesitated to place any big bets ahead of the Federal Reserve's meeting on Tuesday.
World markets: Asian markets finished higher. The Shanghai Composite (SHCOMP) rose 0.9% and Japan's Nikkei (N225) ticked up 0.1%, while the Hang Seng (HSI) in Hong Kong added 1.0%.
The European Union signed off Tuesday on another Greek bailout package after the country successfully completed a debt swap. The rescue payment totals €130 billion.
The news helped bolster European stocks. Britain's FTSE 100 (UKX) gained 0.9%, France's CAC 40 (CAC40) jumped 1% and the DAX (DAX) in Germany rose 1%.
Economy: The government reported Tuesday morning that retail sales rose 1.1% in February, boosted by a surge in gasoline prices. That was slightly above the 1% rise anticipated by economists.
After the opening bell, investors will get a report on business inventories in January, which are forecast to rise 0.6%.
Companies: Yahoo (YHOO, Fortune 500) filed a lawsuit against Facebook late Monday, alleging that the social media giant infringed on 10 of its patents related to advertising, privacy, customization, messaging and social networking.
Intel (INTC, Fortune 500) shares nudged higher after reports that the chipmaker is planning an Internet-based television service.
Currencies and commodities: The dollar strengthened against the euro and the Japanese yen, but lost ground against the British pound.
Oil for April delivery rose 46 cents to $106.80 a barrel.
Gold futures for April delivery declined $3.40 to $1,696.40 an ounce.
Bonds: The price on the benchmark 10-year U.S. Treasury dropped, pushing the yield up to 2.06% from 2.03% late Monday.