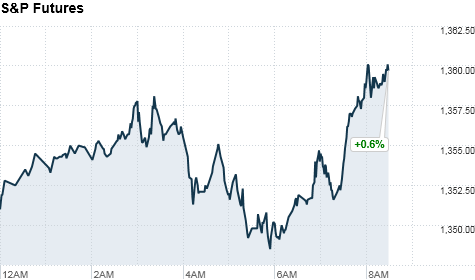 Click on chart to track premarkets
NEW YORK (CNNMoney) -- U.S. stocks were set for a higher open Thursday, as investors react to reports on widening U.S. trade deficit and jobless claims data that came in close to expectations.
Investors also took into account uncertainty in Europe, a weaker than expected trade report from China and a disappointing outlook on business spending from Cisco.
Dow Jones industrial average (INDU), S&P 500 (SPX) and Nasdaq (COMP) futures were moved higher Thursday morning. Stock futures indicate the possible direction of the markets when they open at 9:30 a.m. ET.
Europe is likely to remain the primary focus, as Greek politicians continue to struggle with forming a coalition government and Spanish bond yields continue to rise.
After the Greek leftist party failed, Socialist leader Evangelos Venizelos was given the mandate to form a coalition government after meeting with the Greek President on Thursday.
Meanwhile, the Bank of Spain moved to take over Bankia -- one of its most troubled and largest banks -- late Monday.
Aside from Europe, China reported import and export growth that was slower than expected, according to forecasts from economists at HSBC. The report could stir new concerns by investors around the globe about a so-called hard landing for China's economy, but HSBC said it is also likely to prompt further monetary policy easing by the People's Bank of China.
Shares of Cisco Systems (CSCO, Fortune 500) fell 6% in premarket trading Thursday, after the networking giant released a disappointing sales outlook for the current quarter.
Wednesday marked the third day that U.S. stocks dropped sharply in the morning and rebounded as the day went on. Despite recovering from earlier losses before the market closed, the Dow continued a 6-day losing streak.
World markets: European stocks rebounded from earlier losses and moved higher during midday trading. Britain's FTSE 100 (UKX) ticked up 0.3%, France's CAC 40 (CAC40) added 0.4% and the DAX (DAX) in Germany gained 1.0%.
The Bank of England held its key interest rate steady and did not increase its asset-buying program at the conclusion of its two-day meeting Thursday, despite a recent report that showed the UK has fallen into a new recession.
Asian markets ended mixed. The Shanghai Composite (SHCOMP) closed 0.1% higher, while the Hang Seng (HSI) in Hong Kong slid 0.5% and Japan's Nikkei (N225) edged lower 0.4%.
Economy: The number of people filing for first-time unemployment benefits in the U.S. fell 1,000 to 367,000 in the latest week. Economists surveyed by Briefing.com had expected the report to show 365,000 claims.
The U.S. trade deficit widened to $51.8 billion in March from $45.5 billion in February, according to the U.S. government. The data was better than economists had expected, with a forecast of the deficit climbing to $53 billion.
Later on Thursday, the U.S. Treasury is set to release its monthly statement on the nation's budget at 2 p.m. ET. The Congressional Budget Office has forecasted a $196 billion shortfall.
Federal Reserve Bank Chairman Ben Bernanke is scheduled to speak in Chicago at 9:30 a.m. ET Thursday, on the state of banks and bank lending.
Companies: Beauty products company Avon (AVP, Fortune 500) said that perfume maker Coty raised its unsolicited bid for the company to $24.75 a share from its earlier offer of $23.25. Avon's board said it will consider the offer. Shares of Avon rose more than 1% in premarket trading.
Department store chain Kohl's (KSS, Fortune 500) reported earnings per share of 63 cents, down from 69 cents a year earlier but still better than the forecast of 61 cents from analysts surveyed by Thomson Reuters. But the company gave earning guidance for the current quarter that was below current forecasts, sending shares down 1% in premarket trading.
Currencies and commodities: The dollar fell against the euro and the British pound, but gained against the Japanese yen.
Oil for June delivery gained 71 cents to $97.52 a barrel.
Gold futures for June delivery continue to slide, tumbling another $1 to $1,593.20 an ounce.
Bonds: The price on the benchmark 10-year U.S. Treasury was little changed, leaving the yield steady at 1.84%.