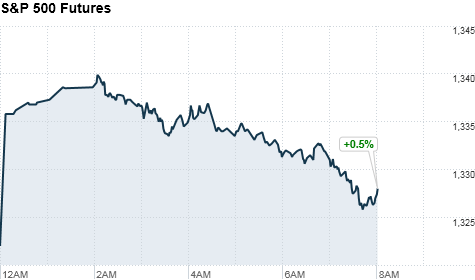 Click on chart for more premarket data
NEW YORK (CNNMoney) -- U.S. stocks are likely to get a lift from news over the weekend of a $125 billion bailout for Spanish banks and stronger-than-expected Chinese trade.
S&P 500 (SPX) and Nasdaq (COMP) futures were both up about 0.5% a little more than an hour ahead of the open, while futures for the Dow Jones industrial average (INDU) pointed to more modest gains. All were down from earlier highs.
The U.S. futures followed widespread gains across world markets which also were off of earlier highs. Stock futures indicate the possible direction of the markets when they open at 9:30 a.m. ET.
Spain asked for €100 billion ($125 billion) from the other members of the eurozone for help to recapitalize its banking system, and the group signaled it is willing to respond favorably to the request.
In addition, China reported that record exports, at $181.1 billion, and imports, at $162.4 billion, which gave it a bigger-than-expected trade surplus and helped to ease concern about a so-called hard landing caused by a rapid slowdown in its economy.
A separate report showed inflation in China slowed in May, which kept the door open for more stimulus from the government there to deal with any possible slowdown.
Last week, China's central bank announced a surprise interest rate cut, which briefly lifted stocks.
Peter Cardillo, chief market economist Rockwell Global Capital, said the overseas news should be a major lift for U.S. markets. He said fears of a worsening of the European sovereign debt crisis and a hard landing in China have been major drags on stocks in recent weeks.
"Spain is a major step in the right direction. It obviously buys us time," he said. "Chinese exports picking up plays into the news of a soft landing for China and is good news for the global economy. And the inflation report there is a green light for further easing by the Chinese."
No major U.S. economic readings are due Monday, though reports will come later in the week on retail sales and inflation. Cardillo said lack of domestic news will further keep investors focused on any good news from overseas.
U.S. stocks rose Friday, capping the best week of the year, amid speculation that Spain would request a bailout for its troubled banking sector over the weekend. Even with the rebound week for stocks, the CNNMoney Fear & Greed index showed investor sentiment still in extreme fear territory, although less so than earlier in the week.
Companies: Technology bellwether Apple (AAPL, Fortune 500) could make news when it holds its annual developers conference. Shares of Apple were up 1% in premarket trading Monday.
Battered shares of Facebook (FB), which started to recoup recent losses with a 3% gain in trading Friday, rose another 1.5% in premarket trading Monday.
Shares of McDonald's (MCD, Fortune 500) and KFC-owner Yum! Brands (YUM, Fortune 500) were mixed in after-hours trading Friday, with McDonald's posting a slight gain and Yum slipping slightly. Both stocks fell during the trading day amid fears about slowing economic growth in China.

JPMorgan Chase (JPM, Fortune 500) shares ticked up 0.5% in after-hours trading, extending a 2.7% gain logged during market hours Friday. The bank's CEO, Jamie Dimon, will appear in front of the Senate Banking Committee Wednesday to answer questions about the company's $2 billion loss.
World markets: European stocks rallied in morning trading on the news out of Spain, although all were down from earlier highs. Britain's FTSE 100 (UKX) climbed 0.4%, the DAX (DAX) in Germany gained 1.4% and France's CAC 40 (CAC40) was up 1%
Asian markets ended higher after the Chinese economic reports. The Shanghai Composite (SHCOMP) closed 1.1% higher the Hang Seng (HSI) in Hong Kong shot up 2.4% and Japan's Nikkei (N225) was up nearly 2%.
Currencies and commodities: The dollar was lower against the euro the British pound as well as the Japanese yen.
Oil for July delivery rose 71 cents to $84.81 a barrel.
Gold futures for June delivery rose $1.80 to $1,593.20 an ounce.
Bonds: The price on the benchmark 10-year U.S. Treasury edged slightly higher, pushing the yield down to 1.63% from 1.64% late Friday.