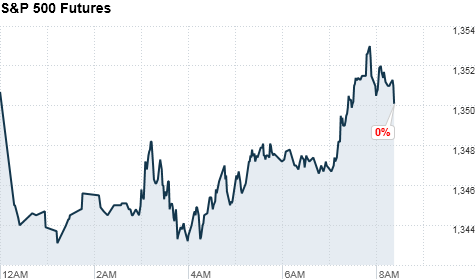 Click on chart for more premarket data
NEW YORK (CNNMoney) -- U.S. stocks were poised for a flat open Thursday, following disappointment in the Federal Reserve's limited action and more signs of a global economic slowdown hitting both China and Europe.
Dow Jones industrial average (INDU), S&P 500 (SPX) and Nasdaq (COMP) futures were just above breakeven after being down in earlier trading. Stock futures indicate the possible direction of the markets when they open at 9:30 a.m. ET.
Investors have a number of economic reports to consider, as they continue to digest the news that the Fed is extending its "Operation Twist" program due to the central bank's forecast of greater economic weakness.
Overseas economic reports released Thursday show it's not just the U.S. where the economy is weaker than hoped.
The preliminary report for HSBC Manufacturing Purchasing Managers' Index showed Chinese manufacturing fell to a seven-month low -- a sign that factories there are being hit by sluggish demand.
Meanwhile, Europe's PMI index for June remained near a three-year low, as manufacturing output in Germany -- the most important European economy -- fell at the fastest rate in three years. It was the second straight month of decline.
The Fed said Wednesday that it will extend Twist -- its policy of swapping short-term Treasuries in its portfolio for debt with a longer duration -- until the end of the year, in an effort to jumpstart sluggish economic growth and hiring. The Fed said it stood ready to take additional action if needed.
But the move fell short of the full-blown injection of additional cash into the economy, through asset purchases known as quantitative easing, that many investors have been calling for. U.S. stocks closed mixed Wednesday following the Fed's announcement.
The latest economic data came as eurozone finance ministers gathered in Luxembourg for a two-day summit.
The continent's leaders are facing pressure to announce new measures to combat their sovereign debt crisis, which remains of grave concern even after news that Greek politicians formed a coalition government led by a pro-bailout party.
Spain's bond auction of 2-, 3-, and 5-year bonds Thursday morning resulted in 2-year yields doubling from the prior auction, and sent yields for the 5- and 7-year notes also markedly higher. But the yield on the benchmark 10-year Spanish bond, which pushed past 7% earlier this week, fell to 6.5%.
CNNMoney's own Fear and Greed index shows investors less fearful, although still in fear territory. But the index had been in extreme fear territory until last week.
Domestic economic reports on tap for Thursday in the United States include the latest look at first-time unemployment claims and existing home sales.
World markets: European stocks were mixed in afternoon trading. Britain's FTSE 100 (UKX) slid 0.4%, but France's CAC 40 (CAC40) gained 0.3% and the DAX (DAX) in Germany reversed earlier losses to edge higher 0.4%.
Asian markets closed mixed after the China manufacturing report and in reaction to the Fed meeting. The Shanghai Composite (SHCOMP) lost 1.4% while the Hang Seng (HSI) in Hong Kong was down 1.3%. But Japan's Nikkei (N225) gained 0.8%.
Economy: There were 387,000 first-time filings for unemployment benefits in the week ended June 16, little changed from the prior week but a bit above the forecast of 380,000 from the economists surveyed by Briefing.com.
Existing home sales for May are expected to come in at an annualized rate of 4.56 million in the 10 a.m. ET report. The Conference Board's Leading Economic Indicators index for May is expected to remain unchanged, after decreasing by 0.1% in April. And the Philadelphia Fed's manufacturing index is expected to decline by 0.2%, far less than the 5.8% drop a month ago.
Companies: Drugstore chain Rite Aid (RAD, Fortune 500) reported a loss of 3 cents a share, a bit better than the forecast of a 4 cent a share from analysts surveyed by Thomson Reuters, or the 7 cents a share it lost a year-earlier. Shares rose 4.3% in premarket trading.
Shares of Bed Bath & Beyond (BBBY, Fortune 500) sank more than 10% in premarket trading, after the retailer offered disappointing guidance for the current quarter after the bell on Wednesday.
Shares of open source software provider Red Hat (RHT) fell more than 10% in premarket trading after it posted a better-than-forecast gain in earnings late Wednesday, but reported disappointing billings for the quarter.
Food maker ConAgra (CAG, Fortune 500) posted a better-than-expected increase in operating earnings, and said fiscal-year profit would also rise more than current forecasts. But a charge related to its pension plans resulted in it reporting a net loss. Shares were up 1.1% in premarket trading.
Cigarette maker Philip Morris International (PM, Fortune 500), which sells the brands of Altria Group (MO, Fortune 500) such as Marlboro in overseas markets, cut its full-year earnings guidance, citing a bigger hit from currency exchange rates. Shares of Philip Morris International fell 1.7% in premarket trading.
Dow component Johnson & Johnson (JNJ, Fortune 500) is close to settling a probe with the Justice Department into the company's promotion of the antipsychotic drug Risperdal, which could include a payment of $1.5 billion, according to a report in the Wall Street Journal.
The payment would be the largest ever for the company, according to the report, but it would avoid a felony charge that could prevent the company from selling its medicines to government health programs such as Medicare. Shares of J&J were down 0.1% in premarket trading.
Currencies and commodities: The dollar rose against the euro and Japanese yen, but lost ground versus the British pound.
Oil for July delivery fell 58 cents to $80.87 a barrel.
Gold futures for August delivery dropped $19.00 to $1,596.80 an ounce.
Bonds: The price on the benchmark 10-year U.S. Treasury was higher, pushing the yield down to 1.64% from the 1.66% level reached late Wednesday.