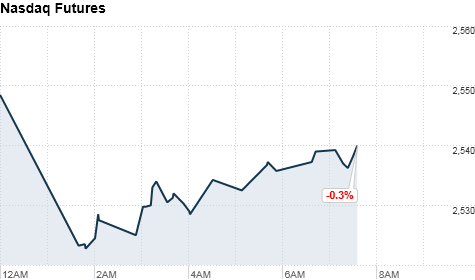 Click the chart for more premarket data.
NEW YORK (CNNMoney) -- U.S. stocks were headed for a choppy open Wednesday. Apple was poised to be a big drag on tech stocks, while the broader market could get a boost from Caterpillar's strong results.
And Europe continues to be a worry, with Spain's borrowing costs skyrocketing, weakening business confidence in Germany, and Greece's creditors taking stock of that nation's progress.
Dow Jones industrial average (INDU) futures surged after
manufacturing giant Caterpillar, which beat expectations and raised its outlook for the year. Caterpillar, one of the Dow's most heavily weighted stocks, is closely watched as a gauge for global economic strength. Positive results from Boeing (BA, Fortune 500) also helped boost Dow futures.
S&P 500 (SPX) futures were also higher. But Nasdaq (COMP) futures were dragged lower by Apple's disappointing earnings. Apple (AAPL, Fortune 500) is the biggest component of the tech-heavy index by far, and shares were down nearly 5% in premarket trading.
Stock futures indicate the possible direction of the markets when they open at 9:30 a.m. ET.
Meanwhile, global markets garnered some support from comments by European Central Bank policymaker Ewald Nowotny, who said it may be justified to take steps that would boost the firepower of the eurozone's new bailout fund.
Nowotny said that there are some arguments in favor of granting the European Stability Mechanism (ESM) a banking license that would allow it to borrow unlimited money from the ECB.
While investors were encouraged by the remarks, relief is likely temporary since the comments appear to be "off the cuff and purely a personal opinion, with Nowotny admitting that the issue is not even under discussion at the ECB," said Grant Lewis, head of research at Daiwa Capital Markets in London.
"Such a move remains highly improbable," Lewis added. "Both the German government and the ECB remain implacably opposed to this, arguing that it would be akin to direct central bank deficit financing, something explicitly ruled out by the European Union treaties."
Fears that Spain is moving closer to needing a full-blown bailout -- like those granted to Greece, Ireland and Portugal -- continued to build, with Spain's 10-year yield hitting a new record high of 7.75%.
Also adding to the nervousness, Germany's business confidence index declined for a third straight month in July, hitting the lowest level in more than two years amid Europe's escalating debt crisis.
U.S. stocks fell sharply Tuesday, with the Dow suffering a triple-digit decline for a third session. However, the market recovered some ground just before the closing bell, after a report in the Wall Street Journal suggested the Federal Reserve may be moving toward more simulative monetary policies.
World markets: European stocks were higher in morning trading. Britain's FTSE 100 (UKX) ticked up 0.2%, the DAX (DAX) in Germany added 0.5% and France's CAC 40 (CAC40) rose 0.6%.
Asian markets ended in the red. The Shanghai Composite (SHCOMP) lost 0.5%, the Hang Seng (HSI) in Hong Kong slipped 0.1% and Japan's Nikkei (N225) dropped 1.4%.
Economy: The Census Bureau will report data on new home sales for June at 10:00 a.m. ET. Sales are expected to have come in at an annual rate of 373,000 units, according to a survey of analysts by Briefing.com.
At 9:30 a.m. ET, Treasury Secretary Tim Geithner will testify before the House Financial Services Committee in Washington.
Companies: Investors also continued to parse through quarterly earnings.
Ford's (F, Fortune 500) second-quarter profit dropped 57% to $1 billion, hurt by a loss in the company's European operations. But the automaker's earnings and sales topped Wall Street forecasts, sending shares up in premarket trading.
PepsiCo (PEP, Fortune 500) reported better-than-expected earnings before the opening bell. But, like many global companies, its revenue was hurt by unfavorable currency exchange rates.
Netflix (NFLX) shares dove following quarterly results in which the company beat earnings expectations, but offered a weak outlook for the rest of the year.
TripAdvisor (TRIP) shares also plunged after the company missed Wall Street's revenue forecasts.
Nasdaq (NDAQ), which has been in the spotlight since May following Facebook's (FB) botched market debut, also reported results. The exchange operator's revenue and profit rose slightly during the quarter and topped expectations.
Numbers are due from Visa (V, Fortune 500) and Zynga (ZNGA) after the bell.
Currencies and commodities: The dollar fell against the euro, but gained ground versus the British pound and Japanese yen.
Oil for September delivery rose 20 cents to $88.70 a barrel.
Gold futures for August delivery rose $15.60 to $1,591.80 an ounce.
Bonds: The price on the benchmark 10-year U.S. Treasury fell, pushing the yield up to 1.43% from 1.40% late Tuesday.