Thinking about your post-work home? You'll get huge bang for your buck -- plus lots of other perks -- in these towns.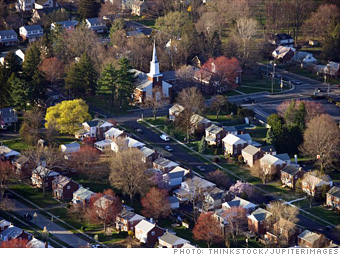 Population: 1,449,600
% over 50: 31%
Typical 3-bedroom home: $375,000
State income tax: 3.07%*
The City of Brotherly Love has the same four seasons and northeastern sensibilities as New York, but it is smaller, a bit slower-paced and a whole lot more affordable. Philadelphia's small city blocks make it ideal for pedestrians, and Center City retirees have an array of shopping and dining options within walking distance. Culture abounds at the city's many museums and theaters.
There are an abundance of outdoor recreation opportunities, too. The 28-mile, partially paved Schuylkill River Trail invites bikers to travel along the river from the Philadelphia Museum of Art to Valley Forge National Historic Park. Fairmount Park offers hiking, horseback riding and golfing within the city limits. Philadelphia's location also makes for easy weekend getaways. The city is less than three hours from New York City, Washington, D.C., the New Jersey shore and the Pocono Mountains.
But there's no need to travel for good healthcare. Philadelphia's got several major teaching hospitals that offer stellar services. Among them: Thomas Jefferson University Hospital, Temple University Hospital, University of Pennsylvania Hospital and Hahnemann University Hospital.
Pennsylvania doesn't tax retirement income such as pensions. Like many major cities, though, Philadelphia has higher crime rates than many on this list. --B.B.
See complete data, including tax rates, for Philadelphia

NEXT: Virginia Beach, Va.

Last updated September 24 2009: 1:21 PM ET
* For top bracket, not including local taxes. The average local tax rate for all Pennsylvania counties and cities, weighted by total personal income within each jurisdiction, is 1.25%.