Thinking about your post-work home? You'll get huge bang for your buck -- plus lots of other perks -- in these towns.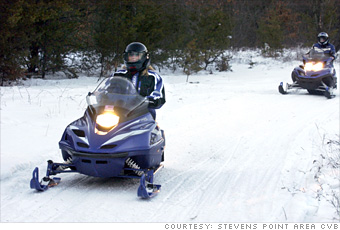 Population: 24,800
% over 50: 26%
Typical 3-bedroom home: $135,000
State income tax: 6.75%*
Stevens Point residents love getting out, and they don't let the 40 inches of snow the city gets per year get in their way. Many of the 30-plus miles of the Green Circle Trail, used in the summer for hiking and biking are open to cross-country skiing in the winter months. Standing Rocks County Park has both cross-country trails and downhill slopes, and Iverson Park has toboggan and tubing runs. The region also has 300 miles of snowmobile trails.
There's plenty for retirees to do in the summertime as well. Residents enjoy all types of water sports on the Wisconsin River and hit the links at the two local golf courses. The city's Downtown Historic District boasts restaurants, shops, museums and galleries and connects to the Wisconsin Riverfront Park. For more than 150 years, the Public Square downtown has hosted a tri-season daily Farmer's Market.
The University of Wisconsin's Stevens Point Campus offers classes to residents. The campus also contains the Schmeeckle Reserve, an area with trails and boardwalks as well as fishing and canoeing on Lake Joanis. --B.B.
See complete data, including tax rates, for Stevens Point

NEXT: Holland, Mich.

Last updated September 24 2009: 1:21 PM ET
* For top bracket. Wisconsin increases, but doesn't double, all or some bracket widths for joint filers. Deduction phases out to zero for single filers at $87,500 and joint filers at $99,736.