Thinking about your post-work home? You'll get huge bang for your buck -- plus lots of other perks -- in these towns.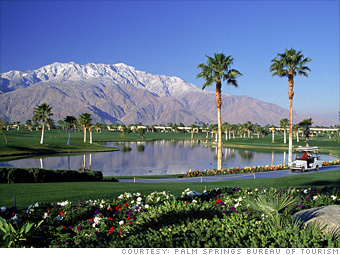 For artsy types, Palm Springs is tops.
Population: 48,000
% over 50: 42%
Typical 3-bedroom home: $250,000
Housing prices down: 44%
State income tax: 10.55%*
It's easy to see the appeal of living in the desert town beloved by Frank Sinatra's Rat Pack. Residents get 332 days of annual sunshine, 360-degree views of the mountains, and as much culture and design as they can pack in.
They can see paintings and sculpture in the 125,000-square-foot Palm Springs Art Museum, landmark midcentury architecture by the likes of Richard Neutra and Albert Frey, and indie movies galore at the Palm Springs International Film Festival.
If you think those perks don't come cheap, think again. Granted, California's taxes are higher than average. But while you'll find plenty of million-dollar spreads here, the typical three-bedroom home can be had for just $250,000, down from about $450,000 at the peak. --S.M.
See complete data, including tax rates, for Palm Springs

NEXT: Traverse City, Mich.

Last updated September 24 2009: 1:21 PM ET