Thinking about your post-work home? You'll get huge bang for your buck -- plus lots of other perks -- in these towns.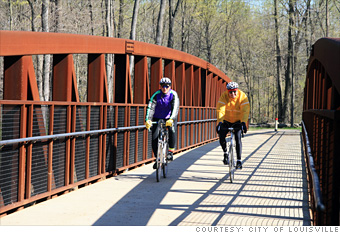 Population: 237,400
% over 50: 33%
Typical 3-bedroom home: $155,000
State income tax: 6.00%*
Louisville has installed more than 50 bike lanes on city streets in the past four years, in response to mounting demand by ride-happy residents. Retirees looking to cycle away without sharing space with cars can hit the Louisville Loop, a partially constructed hiking and biking path that will eventually span more than 100 miles and connect many of Louisville's parks and neighborhoods. (It's currently about 25% complete.) More than 5,000 people participate in the semiannual Hike and Bike event, in which streets are closed to cars in favor of hikers and bikers.
There's also plenty to do downtown once the pedals stop. The city's East Market section houses a thriving arts district and is just a short walk from the Louisville Waterfront Park, an 85-acre area that hosts concerts and festivals along the Ohio River. West Main Street, aka "Museum Row," has seven museums, including the Muhammad Ali Museum, Louisville Slugger Museum and Kentucky Museum of Art & Craft. --B.B.
See complete data, including tax rates, for Louisville

NEXT: Chattanooga, Tenn.

Last updated September 24 2009: 1:21 PM ET
* For top bracket. Kentucky doesn't adjust its brackets for joint filers. Some states permit married couples to file separately to avoid a marriage penalty, and some allow joint filers to make an adjustment to reduce their tax after it is calculated. Values adjusted for inflation each year. Tax credit. Kentucky has county or city level income taxes. The average rate for all counties and cities, weighted by total personal income within each jurisdiction, is 0.76% in the state.