Thinking about your post-work home? You'll get huge bang for your buck -- plus lots of other perks -- in these towns.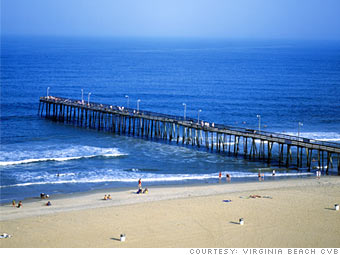 Population: 434,700
% over 50: 28%
Typical 3-bedroom home: $245,000
State income tax: 5.75%*
The 35 miles of shoreline are a big draw to this quiet city nestled along the Virginia coast. Beach access is free, and while the spots in front of the boardwalk get crowded with tourists during high season, there are quieter beaches further north. Nature lovers also take pleasure in the Back Bay National Wildlife Refuge, which includes more than 9,000 acres of dunes, woodlands and marshlands and a range of scenic trails for visitors. First Landing State Park covers about 3,000 acres and offers boating, swimming and hiking on 19 miles of trails.
Commercial pleasures abound about 15 minutes inland at the Town Center, a mixed-use facility featuring entertainment, business and retail activities as well as luxury condos and lofts. The center, which will eventually encompass 17 city blocks, also houses the Sandler Center for Performing Arts and hosts a variety of festivals and live performances throughout the year. Golfers enjoy 11 courses throughout the city. --B.B.
See complete data, including tax rates, for Virginia Beach

NEXT: Bella Vista, Ark.

Last updated September 24 2009: 1:21 PM ET
* For top bracket. Virginia doesn't adjust its brackets for joint filers. Some states permit married couples to file separately to avoid a marriage penalty, and some allow joint filers to make an adjustment to reduce their tax after it is calculated.