Thinking about your post-work home? You'll get huge bang for your buck -- plus lots of other perks -- in these towns.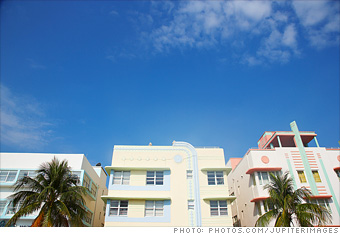 Population: 409,700
% over 50: 34%
Typical 3-bedroom home: $200,000
State income tax: None
Known for its art deco architecture and jet-setting residents, Miami combines the allure of a traditional Florida retirement (the weather, the beaches) with that of a trend-setting city. Foodies will enjoy the flavors from around the world in Miami's thriving restaurant scene. The famed South Beach area is a mecca for high-end shopping and nightlife.
Miami has all the cultural trapping of big city, from the Miami City Ballet and Jackie Gleason Theater to major sports franchise teams. The metropolis plays host to a variety of fairs and festivals through the year; highlights include the Art Basel International Art Show, the Miami International Wine Fair and the Miami International Film Festival.
Like the rest of Florida, Miami has been devastated by plummeting real-estate values, but that means opportunists can find luxury condos and art deco homes at a deep discount. Florida has no income tax, but property taxes can be high. --B.B.
See complete data, including tax rates, for Miami

NEXT: Fairhope, Ala.