Thinking about your post-work home? You'll get huge bang for your buck -- plus lots of other perks -- in these towns.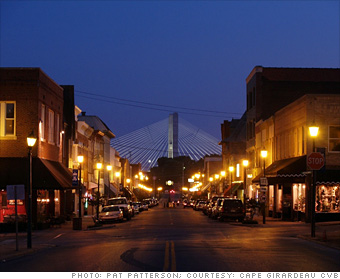 Population: 37,200
% over 50: 31%
Typical 3-bedroom home: $130,000
State income tax: 6.00%*
This Mississippi River town has become a regional hub for education, commerce and health care, making it a wonderful place for young retirees looking to keep busy. Southeast Missouri State University has a campus in town, offering classes to residents in addition to cultural contributions such as the Show Me Center arena and the Rosemary Berkel and Harry L. Crisp II Museum featuring fine art.
The Old Town Cape riverfront district serves as the commercial center of town, with a variety of locally owned restaurants and shops. Art galleries and antique stores abound in the district, and the local Arts Council hosts more than 100 events each year, including two annual arts and crafts festivals.
The city has a mixed relationship with the river on which it grew from a small frontier trading post. The speed and size of the Mississippi near Cape Girardeau forced the city to erect a floodwall in 1964. The wall features a 24-panel Mississippi River Tales Mural. Cape Girardeau also pays homage to the river at the Cape River Heritage Museum. Although it's tough to enter the river from downtown Cape Girardeau, nearby Red Star Landing has a launch to a tamer inlet. --B.B.
See complete data, including tax rates, for Cape Girardeau

NEXT: Broken Arrow, Okla.

Last updated September 24 2009: 1:21 PM ET
* For top bracket. Missouri doesn't adjust its brackets for joint filers. Some states permit married couples to file separately to avoid a marriage penalty, and some allow joint filers to make an adjustment to reduce their tax after it is calculated. Missouri has county or city level income taxes. The average rate for all counties and cities, weighted by total personal income within each jurisdiction, is 0.12% in the state.