Thinking about your post-work home? You'll get huge bang for your buck -- plus lots of other perks -- in these towns.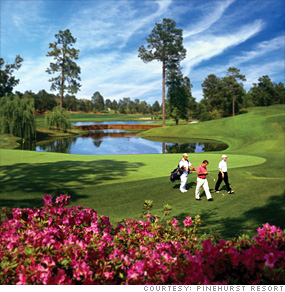 Golfers rejoice in Pinehurst
Population: 12,000
% over 50: 57%
Typical 3-bedroom home: $300,000
Housing prices down: 27%
State income tax: 7.75%*
Most Americans know this town as the home of Pinehurst Resort, which contains one of the country's oldest and most prestigious golf courses. Yet it's also a friendly year-round community with a bustling downtown, first-rate regional hospital, and mild weather.
Granted, at $300,000, the typical home in Pinehurst isn't rock-bottom cheap. But all residents are eligible for membership in the resort, which boasts eight golf courses, 24 tennis courts, three pools, and a 200-acre lake with a beach. If you buy a home from someone who already has a membership, you can pay $12,000 to join vs. $40,000 normally.
While the ability to hit the links all year is a big attraction, social life need not center on the sport. "We don't even golf," says Richard Fumea, 65, a retired human resources executive who moved here four years ago with his wife, Susan, 56. "Yet we made more friends in the first three months of living here than we'd made during our 20 years in the Chicago area." --S.M.
See complete data, including tax rates, for Pinehurst

NEXT: Surprise, Ariz.

Last updated September 24 2009: 1:21 PM ET