Thinking about your post-work home? You'll get huge bang for your buck -- plus lots of other perks -- in these towns.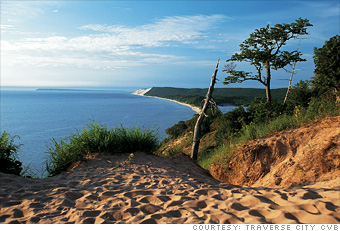 Four-season lovers should check out Traverse City
Population: 14,300
% over 50: 41%
Typical 3-bedroom home: $250,000
Housing prices down: 20%
State income tax: 4.35%*
You don't often hear of people moving to Michigan for the weather. But that's exactly what Susan and Alan Szepanski, 49 and 51, did. After working for the Alaska state government for a combined 55 years, they were able to retire early--and started searching for a new home. "I wanted a place with access to good medical care and lots of culture," says Susan. "Al wanted water." And both wanted four seasons--but winters less long, dark, and harsh than those in Juneau.
The couple found everything on their wish list in this pretty town on the northeast shore of Lake Michigan. Last April they paid about $500,000 for a brand-new, 3,100-square-foot Craftsman-style house with lake views.
Residents enjoy miles of sandy beaches on both the Great Lake and many smaller ones. But this place is no backwater. Munson Medical Center is ranked among the 100 top hospitals in the country, and the area is a hotbed for the arts. The Traverse City Film Festival draws film buffs from around the country, the Dennos Museum Center houses one of the largest collections of Inuit art, and the nearby Interlochen Center for the Arts hosts hundreds of concerts, art exhibits, and theatrical and dance productions each year. The area even produces some very palatable wines. --S.M.
See complete data, including tax rates, for Traverse City

NEXT: Pinehurst, N.C.

Last updated September 24 2009: 1:21 PM ET