Thinking about your post-work home? You'll get huge bang for your buck -- plus lots of other perks -- in these towns.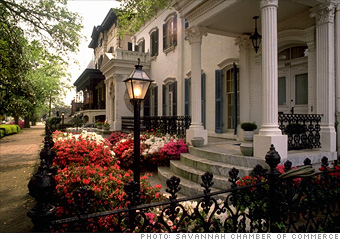 Population: 130,300
% over 50: 29%
Typical 3-bedroom home: $225,000
State income tax: 6.00%*
A stroll through the cobblestone streets in the historic downtown will take you past antebellum homes and 22 small public parks. Savannah's layout reflects the meticulous planning of founder James Oglethorpe in the early 18th century. Today, the refined city combines Old South charm, romance and history with New South energy and progressiveness.
The prestigious Savannah College of Art & Design keeps the city young and has fostered a lively art scene. Art galleries throughout the city showcase both local and national talent, and residents can enroll in a range of SCAD Community Education classes. The bustling downtown also offers a host of shopping boutiques and quality restaurants.
Other perks for retirees: Savannah has a property tax freeze, so the city assesses homes following a purchase, but does not increase the assessment until that property is sold. Memorial Health University and St. Joseph's Candler's hospitals provide top-notch healthcare. --B.B.
See complete data, including tax rates, for Savannah

NEXT: Lakewood, Colo.

Last updated September 24 2009: 1:21 PM ET
* For top bracket. Georgia increases, but doesn't double, all or some bracket widths for joint filers.