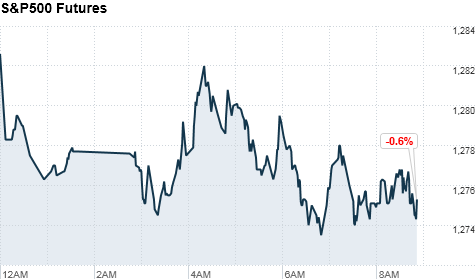 Click on chart for more premarket data.
NEW YORK (CNNMoney) -- U.S. stocks were headed for a modestly lower start Friday, one day after a massive rally, as questions and doubts about Europe's debt-crisis deal start to emerge.
"I think investors are taking a step back, in the sense that they're getting down to the details that were in the plan yesterday," said Adrian Cronje, chief investment officer at Balentine.
Details about the plan remain sketchy and doubts are creeping in.
Dow Jones industrial average (INDU), S&P 500 (SPX) and Nasdaq (COMP) futures were all about 0.5% lower ahead of the opening bell Friday morning. Stock futures indicate the possible direction of the markets when they open at 9:30 a.m. ET.
Stocks surged about 3% on Thursday, following news that European leaders reached a deal that may be a step toward resolving the region's debt crisis.
The previous session's rally pushed the S&P 500 into positive territory for the year, for the first time since Aug. 4. The broad index is now on track for its best monthly performance since October 1974.
The gains also pushed the Dow above the 12,000 mark, for the first time since Aug. 1. The blue-chip index is headed for its best month since January 1987.
While Europe's debt crisis is likely to remain a key issue for the markets, investors will now turn more attention to corporate earnings and U.S. economic data, Cronje said.
They'll also be closely watching developments out of Congress' Super Committee, which faces triggering a series of automatic spending cuts if it doesn't decide on a deficit reduction plan by November 23.
"Everybody has been focused on what's going on in Europe for obvious reasons, but it's important to not forget about some of the other medium-term issues the stock market is confronting," Cronje said.
On Thursday, the U.S. government reported that third-quarter gross domestic product -- the broadest measure of a country's economic activity -- increased at an annual rate of 2.5%. The pace of growth was in line with expectations, and was nearly double the 1.3% growth rate in the second quarter.
Companies: Chevron (CVX, Fortune 500) released quarterly earnings before the bell on Friday that beat expectations, but investors were not impressed. Shares were slightly lower in premarkets.
The oil giant reported a diluted earnings per share of $3.92, up from $1.87 per share last year. The company was projected to report earnings per share of $3.42.
Shares of Whirlpool (WHR, Fortune 500) tumbled 10.7%, after the company said it plans to cut about 5,000 jobs in North America and Europe. Whirlpool also reported earnings that fell short of forecasts.
Merck (MRK, Fortune 500) shares rose 2.5% in premarket trading, after the pharmaceutical giant announced it earned 94 cents per share in the third quarter, up from 85 cents a year ago, and better than analysts had expected.
Goodyear Tire (GT, Fortune 500) shares climbed 10% in premarket trading, after the company announced third-quarter earnings per share of 60 cents. That's up from a loss of 8 cents per share in the year-ago quarter and beats analysts' estimates for 27 cents per share.
Late Thursday, Coinstar (CSTR) announced third-quarter earnings that blew away analysts' forecasts, but its stock plunged 8% in premarket trading because the company also said it will be raising its Redbox daily DVD rental fee from $1.00 to $1.20.
Advanced Micro Devices (AMD, Fortune 500) shares are up 10% in premarket trading, after the chipmaker announced late Thursday that it swung to a profit of 13 cents per share in the third quarter, after losing 17 cents per share in the year-ago quarter.
Economy: The government released data on personal income and spending for the month of September on Friday.
The government reported that income rose 0.1%, which was lower than expected. Analysts surveyed by Briefing.com expected income to have risen 0.3% from the previous month, following a 0.1% drop. Personal spending matched expectations, rising 0.6%, off a 0.2% rise in the month prior.
Third quarter data on employment costs was also released Friday, rising less than expected. Compensation costs for civilian workers increased 0.3% in the third quarter, after rising 0.7% in the prior quarter. Analysts expected costs to have risen 0.6%.
World markets: European stocks fell in mid-day trading. Britain's FTSE 100 (UKX) fell 0.2%, the DAX (DAX) in Germany fell 0.1%and France's CAC 40 (CAC40) was down 0.5%.
Asian markets ended higher. The Shanghai Composite (SHCOMP) gained 1.6%, the Hang Seng (HSI) in Hong Kong climbed 1.7% and Japan's Nikkei (N225) rose 1.4%.
Currencies and commodities: The dollar fell against the Japanese yen and British pound, but gained strength against the euro.
Oil for December delivery slipped $1.06 to $92.90 a barrel.
Gold futures for December delivery fell $9.10 to $1,738.60 an ounce.
Bonds: The price on the benchmark 10-year U.S. Treasury rose, pushing the yield down to 2.38% from 2.40% late Thursday.