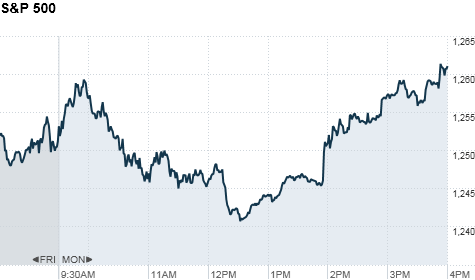 Click chart for more markets data
NEW YORK (CNNMoney) -- Stocks climbed higher in the final hour of trading after a choppy day. Investors have shifted their focus to Italy, as it appears Greece is finally getting its house in order.
Published reports said that a European Central Bank official said the sovereign debt crisis could be resolved in the next two years.
But Italy gave investors reason to be jittery for most of the day.
Borrowing costs in Italy skyrocketed Monday, with the yield on the 10-year note hitting a record high of 6.68% at one point, before easing to settle at 6.66%. Over the weekend, tens of thousands took to the streets in Rome to protest Italian Prime Minister Silvio Berlusconi's reforms.
He faces a vote of confidence Tuesday and many are betting he's headed out the door, despite his denials.
"Italy doesn't have a very good track record in handling fiscal contraction," said Pranay Gupta, chief investment officer of ING Investment Management Asia, in an interview with CNNi. "This time they have made promises and I think that they've had a lot of intervention in Italy to make sure they stick to their promises is key
The Dow Jones industrial average (INDU) gained 85 points, or 0.7% for the day. The S&P 500 (SPX) added 8 points, or 0.6%. The Nasdaq (COMP) moved up 9 points, or 0.3%.
Investor fears have been driven by the European debt crisis for months, and hasn't helped that the Group of 20 summit in Cannes, France, last week failed to produce any tangible new solutions.
Over the weekend, Greek Prime Minister George Papandreou said he would resign on the condition that the bailout plan would be approved. Papandreou is meeting with opposition leader Antonis Samaras Monday to make plans to hand over the reins to a yet-unnamed new prime minister.
With Greece now on the right track, investors are keenly watching developments in Italy.
"The big elephant in the room actually is Italy," said Gupta. "Greece they can bail out, they can contain, but Italy cannot be refinanced. And it has $300 billion of debt to refinance next year. So the real question is if they are not able to do that, then you have a severe global crisis."
After another week of wild swings, the Dow ended last week down 2%. The S&P 500 lost 2.5% for the week, and the Nasdaq dropped 1.9%.
Companies: Embattled investment bank Jefferies (JEF) managed to stay in positive territory, after disclosing that it had sold a large chunk of its positions in European sovereign debt. The stock dropped roughly 18% last week on fears that it could be the next MF Global.
Shares of DISH Network (DISH, Fortune 500) surged after the company announced a one-time divided payment. The satellite provider released its quarterly earnings that missed estimates by two cents.
Shares of daily deals site Groupon (GRPN) dropped Monday, after closing at $26.11 Friday -- roughly 31% above its initial offering price in the stock's public debut that morning.
World markets: European markets closed down, rising off earlier lows on speculation that Berlusconi might step down. Britain's FTSE 100 (UKX) dropped 0.3%, the DAX (DAX) in Germany lost 0.6%, and France's CAC 40 (CAC40) slipped 0.7%.
Asian markets ended lower. The Shanghai Composite (SHCOMP) fell 0.7%, the Hang Seng (HSI) in Hong Kong lost 0.8% and Japan's Nikkei (N225) declined 0.4%.
Currencies and commodities: The dollar rose against the euro, but fell versus the British pound and the Japanese yen.
Oil for December delivery edged $1.26 cents to $95.52 a barrel.
Gold futures for December delivery added $35.00 to $1791.10 an ounce.
Bonds: The price on the benchmark 10-year U.S. Treasury rose, pushing the yield down to below 2% from 2.10% late Friday.
-- CNNi Hong Kong contributed to this report.