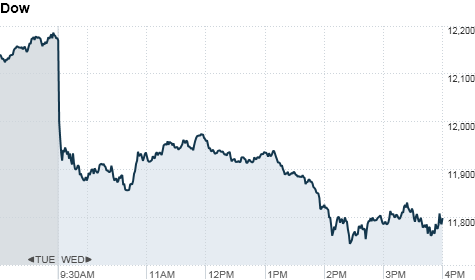 Click the chart for more stock market data.
NEW YORK (CNNMoney) -- Investors ran for the hills Wednesday, shaken to the core by fears that Italy, Europe's fourth-largest economy, was headed deeper into crisis mode.
U.S. stocks sold off sharply right from the open after Italy's 10-year bond yield spiked above 7% -- its highest since the euro was launched in 1999.
The 7% figure is a psychological trigger for investors since it was the level that heightened worries about Greece, Ireland and Portugal. All three eventually needed some type of bailout.
The selling intensified in the afternoon amid reports that European Union officials said they have no plans to rescue Italy.
The fear factor wasn't confined to U.S. stocks. European markets also sold off and the euro slumped more than 2% against the U.S. dollar. The market's fear gauge, the VIX (VIX), spiked 32% to 36.26. Any reading above 30 signals investor worry.
The Dow Jones industrial average (INDU) tumbled 389 points, or 3.2%, with all 30 of the blue chip index's components firmly in the red. The S&P 500 (SPX) sank 47 points, or 3.7%. Best Buy (BBY, Fortune 500) was the only member of the benchmark index to post gains. The tech-heavy Nasdaq composite (COMP) lost 106 points, or 3.9%.
They day's losses pushed the S&P 500 and Nasdaq into the red for 2011, while the Dow is barely hanging on to a 1.8% gain for the year.
Bank stocks were among the big losers, with Citigroup (C, Fortune 500), Goldman Sachs (GS, Fortune 500) and Morgan Stanley (MS, Fortune 500) falling more than 8%. JPMorgan Chase (JPM, Fortune 500), Bank of America (BAC, Fortune 500) and Wells Fargo (WFC, Fortune 500) shares dropped more than 5%.
Rattled investors flocked to the safety of U.S. Treasuries, with the 10-year yield sliding below 2%.
While Italy's bond rates are triggering intense market anxiety, experts say the problem is a lack of investor confidence, rather than solvency, which is plaguing debt-laden eurozone neighbors like Greece.
"This is a crisis of confidence, not of fundamentals," said Mark McCormick, currency strategist at Brown Brothers Harriman. "Italy's debt level is sustainable, but it needs to implement policies that will support economic growth."
If Italy works to solve its problems, the European Central Bank or International Monetary Fund will likely have the leverage that they need to step in with an emergency policy response to help reduce nervousness, said McCormick.
"We're already hearing rumors of an emergency ECB meeting, so they could come in and aggressively buy more Italian bonds," said McCormick. "But it's a moral hazard for the ECB to buy a country's debt unless that country is addressing its long-term problems."
A set of economic reforms is making its way through the Italian parliament, and Prime Minister Silvio Berlusconi has agreed to resign after the budget reforms are approved. But that may not happen until December.
U.S. stocks staged a relief rally Tuesday, finishing near the highs of the day after Berlusconi agreed to resign.
World markets: Europe stocks finished sharply lower. Britain's FTSE 100 (UKX) fell 1.9%, the DAX (DAX) in Germany tumbled 2.2% and France's CAC 40 (CAC40) shed 2.2%. The euro plunged almost 2% against the dollar, a traditional safe haven asset.
Asian markets ended higher. The Shanghai Composite (SHCOMP) ticked up 0.8%, the Hang Seng (HSI) in Hong Kong jumped 1.7% and Japan's Nikkei (N225) climbed 1.2%.
The Chinese government said its inflation rate cooled for a third straight month in October to 5.5%, compared to 6.1% rate in September.
Currencies and commodities: The dollar rose against the British pound, but edged lower versus the Japanese yen.
The stronger buck pressured commodity prices. Oil for December delivery fell $1.06 to settle at $95.74 a barrel. Gold futures for December delivery fell $7.60 to settle at $1,791.60 an ounce.
Bonds: The price on the benchmark 10-year U.S. Treasury rose, pushing the yield down to 1.96% from 2.06% late Tuesday.
Economy: Wholesale inventories fell 0.1% in September. Analysts surveyed by Briefing.com were expecting inventories to have increased by 0.5% for the month.
Companies: Adobe (ADBE) shares tumbled after the company announced it is laying off 750 workers, or 7% of its workforce and will no longer develop the Flash Player for mobile devices. Adobe also lowered its earnings forecast for the fourth quarter.
Shares of General Motors (GM, Fortune 500) slid after the automaker posted lower third-quarter earnings of $1.7 billion. CEO Dan Akerson said in the earnings release that the solid performance in the quarter "isn't good enough."
Shares of Macy's (M, Fortune 500) fell after the retailer reported earnings results ahead of the market open that missed expectations.
Dean Foods (DF, Fortune 500) shares also slipped although the company posted a smaller-than-expected loss for the third quarter and raised its full-year outlook.
Cisco Systems (CSCO, Fortune 500) reported better-than-expected earnings results after the closing bell Wednesday, sending shares higher in after-hours trading.